One of the most common questions we receive from buyers and sellers since the Covid19 pandemic started in March is 'how has the Raleigh Real Estate market been impacted by Covid19?'
The answer is not as straightforward as you may assume and the lingering impact of Covid19 may be something we have not fully realized yet. With that being said, the reports below show some encouraging signs.
Let's take a look at some of the data and what it means:
ShowingTime is a service Realtors use to schedule showings on homes. The graph displays collective data on North Carolina as a whole so whether you're in Charlotte or Raleigh it's likely you experienced something similar in your local real estate market As you can see from the graph above, showings started to take a sharp dive in early March and didn't really get back to normal until late May.
While showings are an important statistic in understanding the local housing market they don't always tell the full story.
This article recently published by the Triangle Business Journal reports that data from the Wake County Register of Deeds is showing a higher number of sales in the first 12 days of July 2020 than in July 2019. This is a fantastic indication that we are not going to experience a real estate recession. In addition to pent up demand from March-May it's likely that the historically low mortgage rates have helped people make the decision to purchase.
My team at Raleigh Realty has seen an incredible number of multiple offer situations and not the normal number we saw last year and the year before, this year has been even crazier. With homes selling for 10% more than list price while only displaying 3 photos online. It's crazy.
So how does our local data compare to the rest of North America?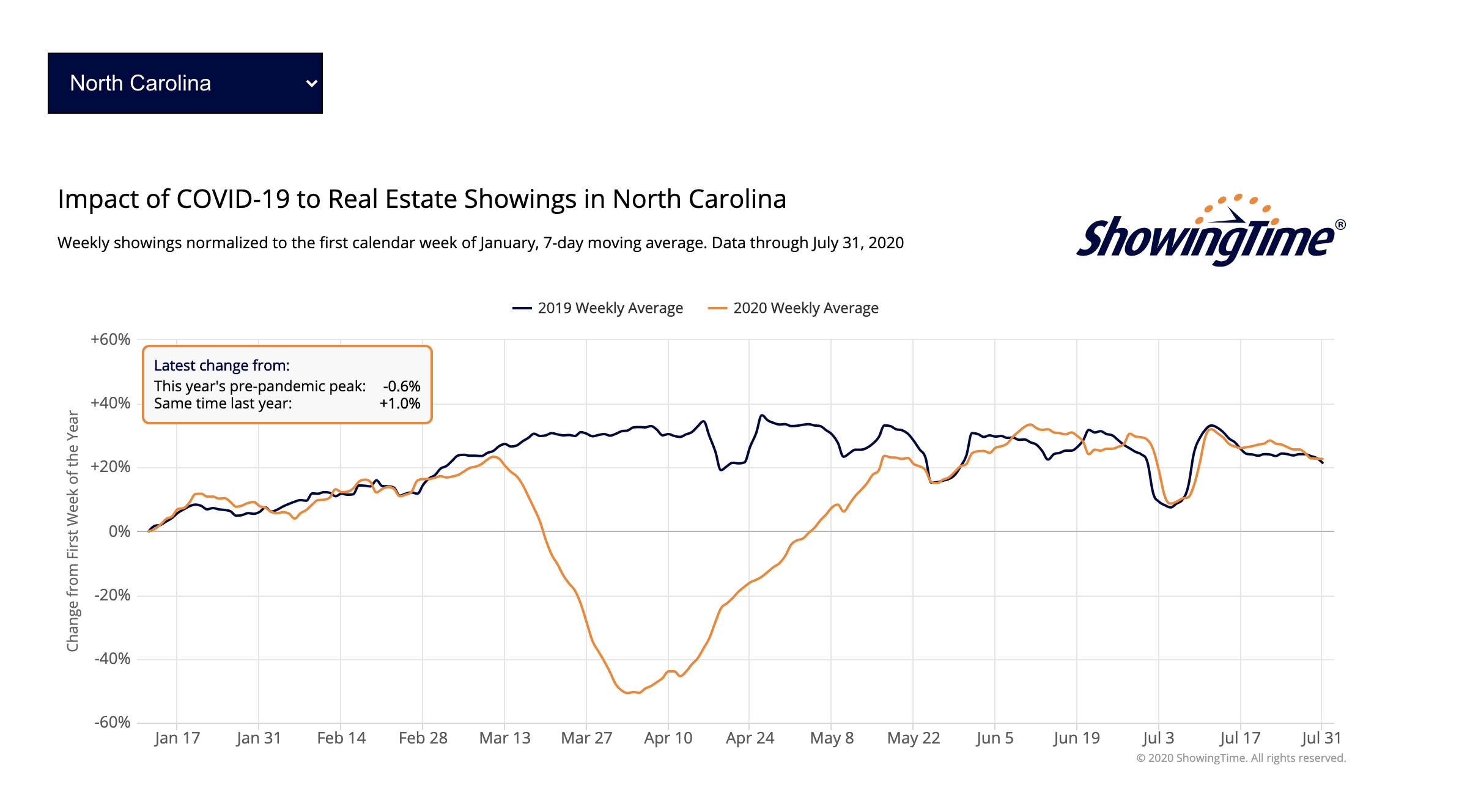 The graph also shows that the number of showings is actually outpacing the same time last year and with all of the health concerns regarding Covid19 it's sort of remarkable. This trend also indicates that the potential of a real estate recession looming, at least not with residential home sales.
Commercial real estate is an entirely different animal when it comes to Covid19. Most commercial entities were forced to stay closed and many will never reopen. What happens to the local commercial real estate market in Raleigh is anyone's guess though it doesn't seem like many organizations are going to rush their employees back to the office.
Other reports are suggesting that people are fleeing densely populated cities for places like North Carolina where they can purchase more square footage and land than they otherwise could elsewhere. Here is an article from Fox Business which discusses people evacuating NYC in droves to move south.
Covid19 certainly hit hard March-May and there may be some lingering effects we have yet to experience in the local real estate market, however, as long as interest rates stay at historic lows we shouldn't experience any sort of real estate recession in the near future in Raleigh.
Article Submitted by:
Ryan Fitzgerald
Realtor®/Owner, Raleigh Realty
2018 REALTOR Magazine's 30 under 30 
919-249-8536 | RaleighRealtyHomes.com