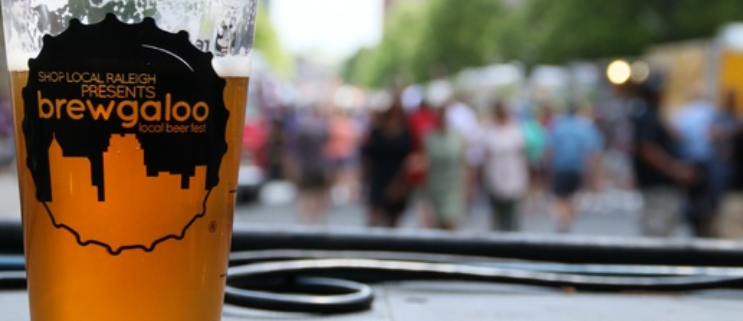 https://shoplocalraleigh.org/wp-content/uploads/2018/04/Capture.png
571
743
ShoppingLocal
https://shoplocalraleigh.org/wp-content/uploads/2014/07/shop-local-raleigh-logo.png
ShoppingLocal
2018-04-27 13:22:08
2018-04-27 17:28:41
Brewgaloo!: Don't Miss Hopportunity Knocking at this North Carolina Brewing Staple

Local tree-planting project helps offset carbon footprint of Four Saints Brewing
Four Saints Brewing Company will pour a unique beer at this month's Brewgaloo Craft Beer Festival in Raleigh, North Carolina. The Asheboro, North Carolina-based brewery teamed up with a Greensboro-based business that specializes in creating sustainability portfolios that allow businesses to offset their carbon emissions through investments in local urban forestry projects.
The company, called Urban Offsets, helped Four Saints Brewing calculate the carbon emissions associated with brewing the Founding Fathers Hemp Ale, from the purchase and transportation of ingredients all the way to the tapping of the kegs on festival day. Urban Offsets then matched the brewery with a local tree-planting project and other carbon offset projects in North Carolina that will remove an equal amount of carbon dioxide from the atmosphere.
"One of the beautiful things about being a craft brewery is we can experiment—not only with brewing, but also with how we operate as a company," said Andrew Deming, one of Four Saints' founders and head brewer. "With the Founding Fathers Hemp Ale we're seeing if we can maximize our positive impact in the community."
The local tree-planting project that will receive support is at the Cone Health Cancer Center Healing Gardens project in Greensboro. In addition to trees that will provide certified carbon sequestration, wildlife habitat, noise and air pollution control, the Cone garden also provides cancer patients with wheelchair accessible paths and designated areas for children, meditation and gardening.
Four Saints also is sourcing all of the ingredients for Founding Fathers Hemp Ale from North Carolina growers within 52 miles of the Fours Saint's brew house. This includes hops grown in Pittsboro and locally grown and spent hemp flowers. The hemp seeds will replace some of the grains traditionally used to create wort, the sugary liquid that feeds the fermentation process.
Four Saints Brewing Company is brewing one pilot batch, 31 gallons, of Founding Fathers Hemp Ale for attendees of the Brewgaloo Festival to experience what carbon-neutral brewing taste likes.
"To the best of our knowledge, this is the first certified, carbon-neutral brewing in North Carolina, and perhaps even the U.S.," said Shawn Gagné, CEO of Urban Offsets. "It's a relatively small pilot batch, but now that the legwork is done we can easily scale the carbon neutral process developed with Four Saints to match a growing demand for locally-crafted products that also invest in their communities.
Urban Offsets has provided locally sourced carbon credits to Duke University, Delta Air Lines and Etsy, among other large institutions and corporations, but Four Saints Brewing is the first brewery. The Brewgaloo festival will take place April 27-28, 2018 on the streets of downtown Raleigh.
---
About Four Saints Brewing Company
Located at 218 South Fayetteville Street in Asheboro, North Carolina, Four Saints Brewing pays homage to the patron saints of beer, Saint Wenceslaus, Saint Nicholas, Saint Luke and Saint Augustine of Hippo. The Four Saints founders, Joel McClosky and Andrew Deming, carry on the brewing tradition in the hopes of future sainthood, or at least to make some really good beer. www.foursaintsbrewing.com/home.html
About Urban Offsets
Greensboro, N.C.-based Urban Offsets helps corporations and higher education institutions invest carbon offsets in the places and relationships that matter to them. This transforms carbon offsets into assets that help fight climate change, strengthen strategic partnerships, and create climate resilient cities. Using a Sustainability Portfolio approach, Urban Offsets evaluates and grades carbon offsets and bundles them with community development programs that sustainably engage nonprofit partners in each city. Urban Offsets currently operates in 12 U.S. markets and supports more than 10,000 new trees planted in 2017. www.urbanoffsets.co
https://shoplocalraleigh.org/wp-content/uploads/2018/04/Four-Saints-.jpg
206
718
ShoppingLocal
https://shoplocalraleigh.org/wp-content/uploads/2014/07/shop-local-raleigh-logo.png
ShoppingLocal
2018-04-13 19:37:43
2018-04-13 19:37:43
Brewgaloo Festival Features First Carbon-Neutral Brew Process

Less than 5 years old, Asheville, North Carolina's Hi-Wire Brewing plans to spend over $500,000 in a brewery expansion at their Big Top Production Facility beginning in January 2018 to meet an overall goal of increasing distribution sales by 56% in the upcoming calendar year.
Co-Owner, Chris Frosaker notes,
"the equipment addition which will make the biggest impact is adding eight new 90 bbl tanks to increase fermentation capacity to 26,460 bbl per year from our current capacity of 18,900 bbl per year. We will also be adding a new canning line, stainless hard piping throughout the brewery, upgrading water infrastructure into the brewery, and adding numerous pieces of quality control equipment."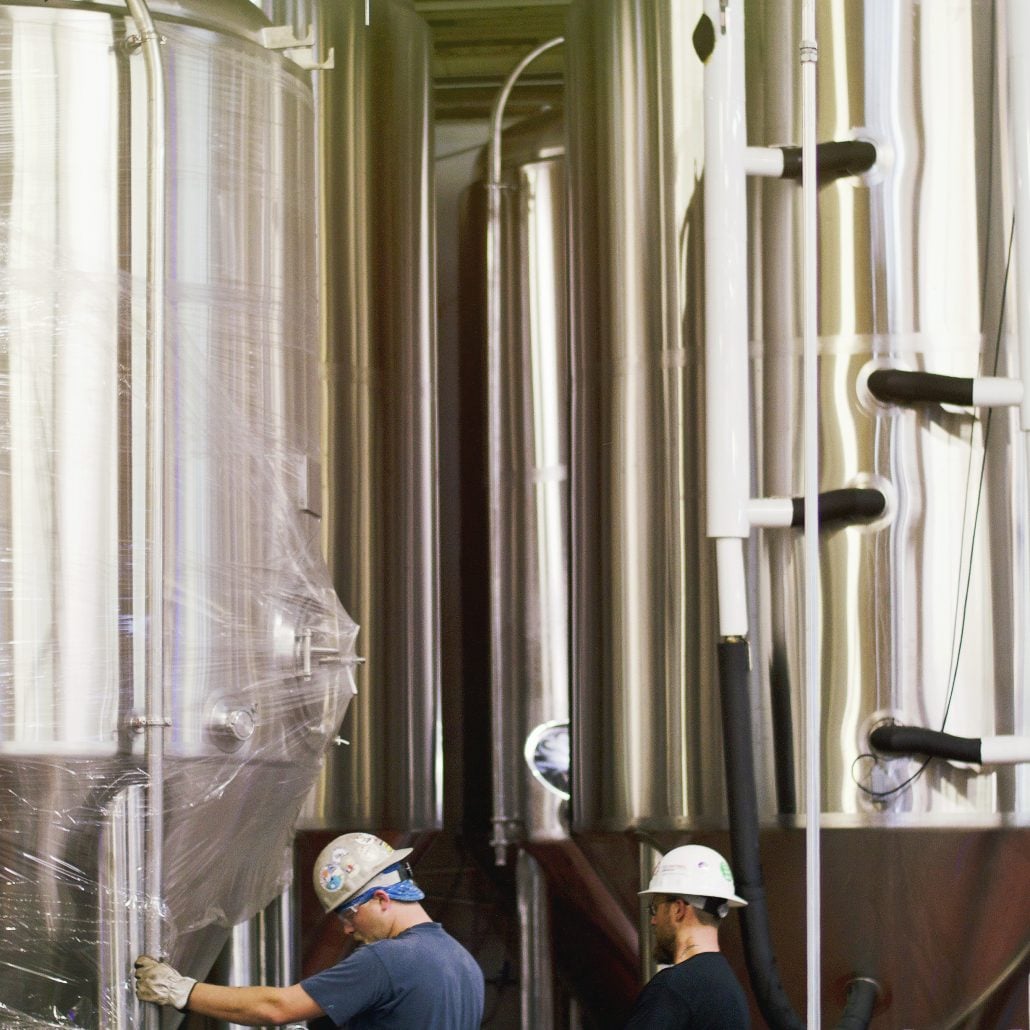 Investments in new equipment has allowed Hi-Wire Brewing to revamp their year round beer lineup to include 12-pack cans of both Hi-Pitch Mosaic IPA (6.7% ABV) and Lo-Pitch Juicy IPA (4.9% ABV). Chris Lutkowski, Director of Sales for Hi-Wire Brewing notes, "Cans are becoming more and more an accepted package by the consumer for their craft beer. With the active lifestyles our customers are engaged in, a lighter, more convenient container is definitely an item that our distributors and consumers have been asking for over the past few months. We believe there is a significant amount of business to be had in all channels by putting two of our most popular styles in a 12-pack can configuration and look forward to a very positive response from existing and new consumers alike." Both sets of 12-packs will be available the second week of January and will see distribution in Hi-Wire Brewing's entire footprint.
Along with adding 12-pack cans, Hi-Wire Brewing has streamlined their seasonal program and added a High Gravity 4-pack Series to their 2018 release calendar. The seasonal series has been re-envisioned to contain Hi-Wire's best selling seasonals such as Aerialist Spring Lager and Zirkusfest Oktoberfest, while the High gravity series features some throwbacks, including Raspberry Wheat Wine and Tropical Golden Strong Ale.
2018 is going to be a wild ride for Hi-Wire Brewing and they look forward to sharing it with new and old fans alike. For regular updates on the expansion upgrades and progress, beer releases, and other upcoming news follow them on Facebook or Instagram @hiwirebrewing or please visit www.hiwirebrewing.com.
---
About Hi-Wire Brewing
Located in Asheville, NC, Hi-Wire Brewing is known for producing approachable and balanced lagers and ales, most notably Hi-Wire Lager, Bed of
Nails Brown, and Hi-Pitch Mosaic IPA. They have two locations in Asheville: the 27,000 square foot Big Top Production Facility & Taproom located half a mile from the Biltmore Estate and the South Slope Specialty Brewery & Taproom located in the South Slope area of downtown, which has a focus on wild and sour ales. Hi-Wire was awarded the most medals at the 2014 NC Brewer's Cup and was named Best New North Carolina Brewery of 2013 by RateBeer. Most recently, the Zirkusfest Oktoberfest Lager won gold at the 2016 Great American Beer Festival® in the German-Style Maerzen category. Their award-winning beers can be found on draft and in bottles across North Carolina, South Carolina, Tennessee, Georgia, and Ohio. To learn more about the company, visit hiwirebrewing.com.
https://shoplocalraleigh.org/wp-content/uploads/2018/01/Hi-Wire-Brewing-1.jpg
820
2216
ShoppingLocal
https://shoplocalraleigh.org/wp-content/uploads/2014/07/shop-local-raleigh-logo.png
ShoppingLocal
2018-01-09 22:05:12
2018-01-09 22:10:53
Big Plans for Hi-Wire Brewing in 2018