IngenuiTea Brews is a Kombucha, Coffee, and Tea shop in Apex Village next to Apex Wings on E. Williams St. Their fresh, probiotic-packed Kombucha is brewed in house and comes in 6 unique flavors, all on tap for the most refreshing taste. Take-home growlers are available for each flavor. This tucked-away shop offers a relaxed atmosphere where the whole family (pets included) can hang out. In addition, IngenuiTea offers an array of high quality loose leaf tea and locally roasted coffee. Stop by for a one-of-a-kind Apex experience!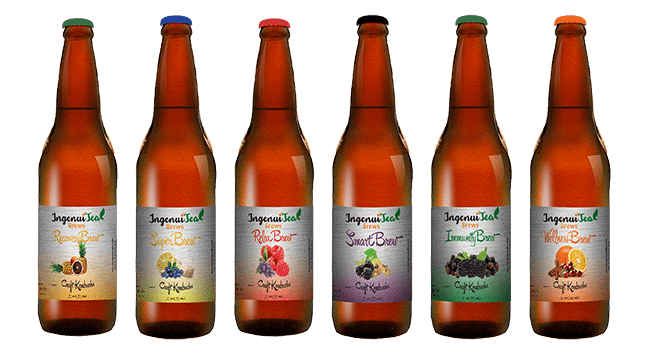 What Is Kombucha?
Kombucha is a fermented (non-alcoholic) tea that is delicious, versatile, and known for its probiotic benefits. Originating in China over 2000 years ago, it was known as the "Tea of Immortality". Our Kombucha is exquisite plain or flavored with fruits and herbs to enhance the benefits. Health claims from the growing population of Kombucha enthusiasts include:
Higher energy levels
Improved digestive function
Improvement in chronic health issues such as metabolic disorders, allergies, hypertension, chronic fatigue, and arthritis
What kinds of Kombucha does IngenuiTea Brews offer?
IngenuiTea Brews offers a variety of flavors designed to help you feel better and stay healthy. Flavors include:
SmartBrew with Blackberry, Lime and Ginseng
SuperBrew with Blueberry, Lemon and Ginger
WellnessBrew with Cranberry Orange Cinnamon
RelaxBrew with Raspberry and Lavender
RecoveryBrew with Pineapple, Blood Orange and Curcumin
ImmunityBrew with Elderberry,  and Boysenberry