Glam Soldier is a Boho Americana Boutique, specializing in Boho-inspired apparel and accessories, and 'soldiered in' vintage and upcycled Americana collections.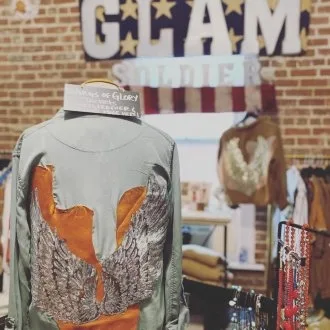 The carefully hand-picked styles, in-house designs, and one-of-a-kind treasures at Glam Soldier are perfect for fashion warriors who are not afraid of expressing their inner spirit and strength. This Downtown Apex boutique offers a wide range of merchandise including the latest trends in jeans, jackets and coats (including custom in-house designed jackets), tops, sweaters, dusters, boots, sandals, and much more as well as some of the most unique and gorgeous accessories you'll find in any store. The vintage room is full of sterling silver jewelry, coats, military items, kimonos, and all kinds of treasures.
Glam Soldier also carries their very own hand-crafted designs including:
Wings of Glory and Americana Custom Jackets
Messenger Bags, Totes, Wristlets and Wallets from their leather shop
One-of-a-kind vintage estate and designer branded jewelry and accessories
Equal parts grace and grit, Glam Soldier is a veteran and women-owned business with a team that is as stylish, tough, unique, and durable as the products they sell. If you want to be 'the only one,' stand out in the crowd, be showered with compliments, and still feel comfortable, then come join the Glam Soldier army.