When you purchase a Wicks for Wags candle you are supporting the Animal Rights Cause.  A portion of the proceeds are donated to animal shelters and rescue groups to help and protect animals in need.
Our candles are vegan, eco-friendly, clean burning and ridiculously good-smelling.  They are dye-free, made with lead-free cotton wicks, phthalate-free fragrance oils and soy wax from soybeans grown on American Farms.  Soy candles are non-toxic, biodegradable and do not release harmful soot and carcinogens like paraffin candles…AND last much longer!  Good for the environment. Good for our furry friends. Good for you.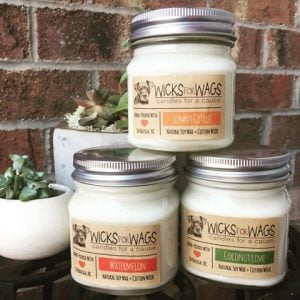 Customers love these candles for a cause. Ashley says "Candles are amazing and a portion of the proceeds go to a great cause This is my new go to gift."
Check out our events and retailers carrying Wicks for Wags candles around the Triangle!