Welcome to Blue Water Plastic Surgery Partners. Our mission is to provide each client with individualized care, specifically tailored to their personal needs and goals, and to provide an environment which is peaceful, relaxing and restorative. In addition, we have fully integrated the Blue Water Medical Spa to our extensive plastic and reconstructive surgery practice. The advantage of this approach is that all individual aesthetic needs can be met in one location.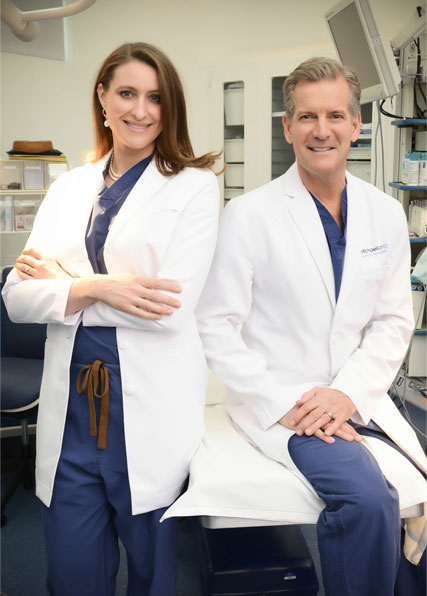 Dr. Law and Dr. Schmidt are dedicated to serving Raleigh, North Carolina and the surrounding areas for all cosmetic and reconstructive enhancement needs.
Dr. Michael Law is a board-certified plastic surgeon who grew up in Raleigh. Upon completing his surgical training, he remained in California where he had a successful aesthetic plastic surgery practice in Beverly Hills. North Carolina always seemed like home, however, and in 2002 he made the decision to leave California and bring his exceptional training and talents to his hometown. Dr. Law is certified by the American Board of Plastic Surgery and is a member of the American Society of Plastic Surgeons.
Dr. Alexandra Schmidt graduated with honors from The Johns Hopkins University where she earned both her Bachelor's and Master's degrees in neuroscience. Her achievements led her to medical school at Vanderbilt University. From there, she was accepted into one of the oldest and most distinguished plastic surgery programs in the country at Washington University in St. Louis where she completed rigorous and comprehensive training in plastic and reconstructive surgery. Dr. Schmidt is one of a select few plastic surgeons with advanced aesthetic surgery training endorsed by the American Society of Aesthetic Plastic Surgery (ASAPS). She performs the full range of aesthetic surgery of the breast, body, and face and has special interest in "mommy makeovers" and breast surgery.