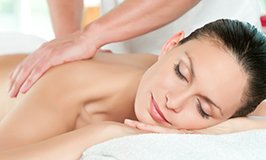 Enjoy each moment before it gets beyond your reach. That is the simple philosophy of every day at Simple Bliss.
Simple Bliss Spa & Wellness is a place where bliss is found within and once you find it there, you'll never want to leave. They create a relaxing and rejuvenating environment that invites you in and takes you away from life's daily stresses. Offering a full range of quality Spa & Wellness Services – Facials, Skin Care, Massage, Energy Therapy, and Reiki – Their expert service providers help you find a sense of wellness and tranquility. Simple Bliss located in the heart of downtown Raleigh's Glenwood South area.
Founded in 2008 by owner Robin Berning, Simple Bliss is an inviting place that helps you incorporate salon & spa services into a regular routine of health and wellness. Whether it's skin care, massage therapy, or energy healing it is never too early or too late to start taking care of yourself.
Let Robin and her highly qualified service providers take care of you and your wellness needs.
Check out our website!
Hours
Tuesday-Thursday: 10am-7pm
Friday & Saturday: 10am-5pm
Sunday and Monday: CLOSED