Offering chiropractic and rehabilitation services, acupuncture, infrared sauna, prenatal and postpartum fitness and education courses, and general women's fitness classes based on each woman's unique cycle: Triangle Chiropractic and Rehabilitation Center has a variety of offerings for those looking for a hands-on approach to healthcare.
Drs. Lindsay Mumma and Mackenzie Smith and their incredible staff are here to serve the Raleigh area. Dr. Mumma and Dr. Smith both started seeing a chiropractor as athletes and were amazed by the results.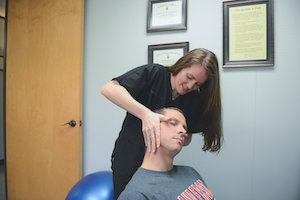 Looking for the best chiropractor in Raleigh? Triangle Chiropractic and Rehabilitation Center is a one-of-a kind center of chiropractic in North Raleigh. Only here will you find the best and most researched manual therapies mixed with patient-centered treatment plans in longer appointment times.
No more feeling rushed in your visits or run through the mill like another number. Your local chiropractic visits are 15 minutes long, and typically consists of chiropractic adjusting, various other manual therapies, and exercises. As a patient, you get to participate in your health care rather than just accept it! Whatever the cause of your pain, Dr. Mumma will help you make changes in your body – and in your life – to decrease your pain and improve your overall function.