Pinup Studio is an independently owned, full service hair and lash studio specializing in Brazilian Blowouts, coloring, and all things lashes!
The Pinup Studio Story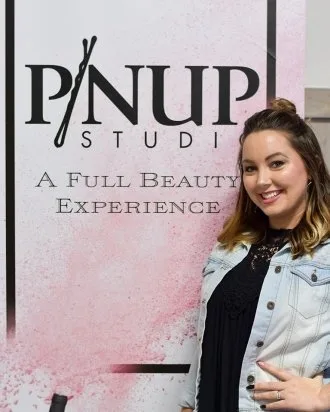 Hey! I am Christina Kirkey the owner and stylist of Pinup Studio. I was born and raised in Raleigh NC, and graduated high school early to attend Paul Mitchell the School of Raleigh to pursue my dreams in the beauty industry. I have always been a girly girl and knew this was the type of career I wanted to be in from day one! While I was more interested in make-up than I was hair at the time Paul Mitchell brought out my love for hair, especially hair coloring. My dreams were bigger than life (and still are) and I wanted to take my passion to California but I ended up finding love right here in Raleigh. My husband Adam brought out a side of me I didn't even know I had, which ended up making me take my career more seriously and to the next level. After working in my fifth dead end salon that didn't feel like home I decided to take the leap and open up my very own studio so that I could specialize in what I love and sell product I trust in and stand behind! I have always been big on customer service and satisfaction and pride myself in that so being able to give each client my undivided attention is something I couldn't wait to offer! Continuing education is huge in this industry with the ever changing trends, I have continued to go to many educational classes, trade shows and online classes to stay up to date on all the techniques I can to offer any client. I specialize in Brazilian Blowouts, Blondes, and Balayage with my hair services. As for lashes, which take up a whole other part of my heart, I am trained through four companies so far and continuing to work and grow toward more certifications. I have been lashing for three years and the lack of knowledge in this area, specifically on lash extensions, is what really grabbed my attention and made me want to know everything possible to be able to offer the best and safest lashes in Raleigh. Also wanting to teach people of the knowledge behind the service itself. I am going on my eighth year as a stylist and absolutely love what I do and can not wait to see where Pinup Studio ends up because the fun has only just begun!