Rain Water Solutions manufactures and distributes the 65-gallon Moby rain barrel as well as our latest addition – the 50 gallon Ivy rain barrel. Both models are made right here in beautiful NC! We work with residents, local and state agencies, and public and private institutions to develop custom solutions with the intent of protecting their landscape investment and reducing the use of costly, treated water. Our goal is to educate and engage our clients on the importance of protecting water quality through conserving water and reducing storm water runoff.
RAIN WATER SOLUTIONS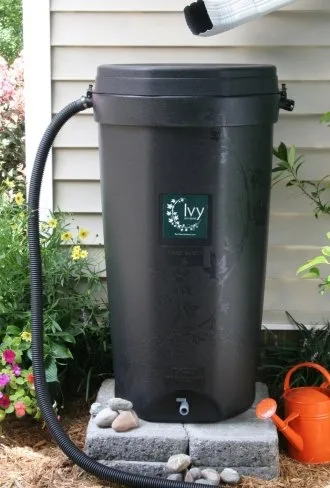 Not all rain barrels are created equal. Aside from providing residents an affordable means to conserve water and protect your water ways, Rain Water Solutions offers you a superior product and unparalleled service.
Top five reasons to start a rain barrel program with Rain Water Solutions:
We will provide all the tools needed for your program.
You will receive significant discounted pricing and we will handle all your sales transactions through our e-commerce website.
USA! USA! Our Ivy rain barrel was born right here in America and is made with 50% recycled plastic.
As part of the program, we provide you with a dedicated website URL you can brand with your own logo and program info.
Our best practices for running a municipal program help streamline your process. We have the flexibility to design a program that fits your needs.
HOW WE CAN HELP
Rain Water Solutions will provide you with the tools you need to successfully launch and manage a rain barrel program in your city or town. We will send you a package to help you get set up, including templates, talking points, and other educational materials.
Tools
Sample Ivy rain barrel
Intro package to get your program running
Point of sale display
Instructions on how to set up
Support
Design a program to fit your needs
Answer customer questions
Order fulfillment
Delivery of rain barrels prior to or on day of sale
Workshop support