Sam Jones BBQ comes from a long line of BBQ folks from eastern NC. With the tradition of multiple wood fired meats coupled with making everything fresh everyday, you are sure to find something that is to your liking.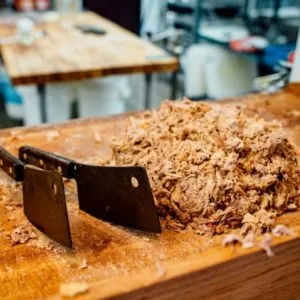 With a location in Raleigh, we offer dine-in, carry out and catering for all your needs.

Catering: Whether you're just looking for a few boxed lunches, to pick up a bunch of BBQ for a party, have a meal dropped off, or even full-service barbecue catering, Sam Jones BBQ will be more than happy to take care of you – schedule permitting, of course. We offer a number of catering options at Sam Jones BBQ. Our boxed lunches are available for groups large or small and can be delivered locally for a $25 fee. With our delivery service, a member of our team will drop off at your desired location and set up your catering order before they leave. If you'd like to have someone attend to your catering throughout your event, we have two different options for you.
Our full-service catering we're not just bringing the food to you and setting up, our team members will stay through your event, keeping the food hot, serving guests, and helping with cleanup. Our buffet style is similar to our full service option – we'll be there to keep the line moving and keep all the food well stocked. With both full-service and buffet style catering, we bring plenty of to-go containers to make sure that any leftover food can go home with you or your guests.