A small family-run business in NC, Be Everthine specializes in fun, on-trend goodies for all occasions. Best known for our bachelorette designs, we know how to get the party started! With a wide selection of apparel, hats & beverage holders — you'll be sure to find a piece for any party theme! Keeping the celebration going, our apparel has expanded into the BEboutique which will fully launch in 2023. The BEboutique will have ready-to-wear as well as custom-made pieces for all sizes. 
In addition to our products, we are known for our content shoots that bring vendors together. We are passionate about uplifting other small businesses and working on projects that make us all shine.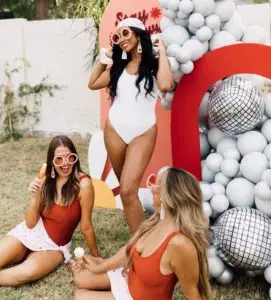 Be Everthine started in late 2016 and has grown into one of the top bachelorette companies in the United States. Notable features include: VH1, BRIDES, The BACH, Birdy Grey, & The KNOT.
The three words that best define who we are custom, trendy & unique. Be Everthine is always on trend because most of the time we are the ones setting them! Be Everthine can be accredited for being at the forefront of setting trends for Disco Brides, Dolly Vibes, Let's Get Wild with leopard print, and so many more! 
What makes Be Everthine different from other bachelorette companies is how we create our products to order;  meaning we are able to provide customizations. We know this time in your life is special and we want your vision to become a reality.  From concept & coloring, to full original designs, we're here to make it happen for you!
We design with party themes in mind. You won't have to search days on end looking for pieces from multiple companies. We have large selections of items for each collection theme, including T-shirts, Tanks, Sweatshirts, Activewear, Swimwear, Cover ups, Statement Pieces, Jewelry, Hats, Party Decor, Favors, Cards & Stickers.