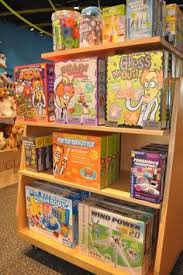 Imagination, discovery and learning come to life through our mix of innovative, educational and whimsical merchandise. Marbles Corner Store toys and games are specially picked to enhance the play in our exhibits, giving you the opportunity to bring the power of play home. Proceeds from the Marbles Corner Store benefit Marbles Kids Museum, a 501(c)(3) nonprofit organization.
We pride ourselves on providing quality made and sustainable products to the community, and we carry award winning brands like Melissa & Doug, Hape, Janod and more.
We Know Play!
Crank up the fun at home with toys and games based on the STEM play found in Kid Grid, the newest exhibit at Marbles. Spark your imagination, and get your gears going!
Corner Store Coffee Bar
Take a break from the fun and grab a drink from our fully stocked, 100% fair trade, organic Larry's Beans and Benelux at our coffee bar. We also carry a wide selection of healthy snacks and drinks for fuel on-the go.
Don't forget! Marbles members get 10% off Corner Store purchases (excluding food & drink).
Store Contact Information
Phone: 919.857.1120
Email: shop@marbleskidsmuseum.org
NOTE: Marbles Corner Store keeps the same hours as the museum.