Fire Up The Fun at your parties & events!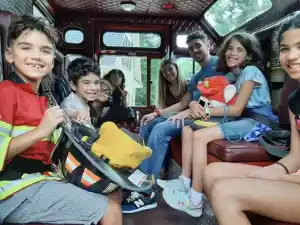 Services
Pull up to the birthday boy or girl's residence with lights and sirens on, which is always exciting to see!
Each child receives a fireman's hat to keep
Hands-on opportunity to explore the inside of the cab and dress-up in authentic firefighter gear (helmets, boots and coats)
Explore and touch authentic tools on display which were used by firefighters assigned to Pipeline 49
Kids will have the opportunity to use a real fire hose and simulate fighting a "fire"
We walk around the truck with the children & discuss what the components are
All participants will have the opportunity to move about the cab and explore all the cool features, pretending they're a firefighter
Additional water games are available upon request (i.e. bucket brigade)
To finish out the party, kids (and parents) will take a short,  minimal speed ride, down your street, in the fire
Tailgating

Neighborhood parties

Preschool events

Water fun days

Weddings

Community parades
Let us know how we can be a part of your memorable day!
Who We Are
An authentic fully functional fire truck will arrive at your event packed with unique experiences, great photo opportunities, and life-long memories. Our goal is to create an experience, like no other, as you celebrate with friends and family. We're honored you're considering us for your next event.
Call or Text (919) 230-4332
About Fire Up The Fun Engine Co.
Introducing North Carolina's unique fire truck party experience!  A retired, award-winning fire truck, from Pennsylvania, known as Pipeline 49, has arrived in North Carolina to start a new service; bringing smiles and memories to the community!
Pipeline 49 came from theVolunteer Fire Department in Pennsylvania, where, along with its complement of firefighters, it fought countless fires, won numerous awards and made a positive impact on the communities it served.  Pipeline 49 is a fully functional and operational fire truck, which was and still is meticulously maintained.  Its features include working lights and sirens, working pumper, and various tools and equipment, which are original to the truck.
We want all of our participants to experience the impressive Pipeline 49 and the remarkable level of professionalism and pure fun when we arrive at your door.