[av_textblock size=" font_color=" color="]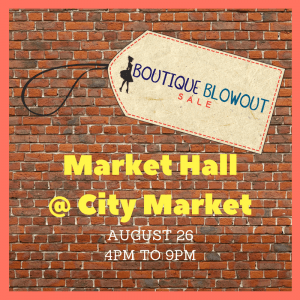 What better way to support your local economy than shopping locally? Come join us for the event of the summer  and shop till you drop on August 26, 2016!
BOUTIQUE BLOWOUT 
Date: August 26, 2016
Time: 4-9pm (4pm-9pm VIP; 5-9pm All)
Location: Market Hall at City Market
Price: $5 for VIP; General Admission is FREE
Shop Local Raleigh is dedicated to promoting and supporting locally-owned & independent businesses in the Wake County area. We constantly look for new ways to support our local economy and increase exposure of local businesses which is why Boutique Blowout was created. Boutique Blowout gives us the opportunity to promote shopping locally by having a huge summer sale! We invite local boutiques and vendors to participate and we use our marketing tools and resources to promote this event as well as each boutique/vendor that participates. Our goal with this event is to provide additional exposure of our local businesses and share their story with our local community. We can't wait to see you on August 26!
2016 Participating Boutiques & Vendors
[/av_textblock]
[av_textblock size=" font_color=" color="]
———————————————————————————————————————————————————————
Are you a Boutique or Vendor that in interested in participating in Boutique Blowout? Click here to fill out an application!
If you have already filled out an application and wish to pay for your space:
Local Vendor Booth – advertise your business but not selling ($25):
10×10 space for SLR Members ($100):
10×10 space for Non-SLR Members ($150):
Space for SLR Sponsoring Members ($175):
*Please contact Peter with any questions.
[/av_textblock]