Gypsy Jule To Host Grand Opening Party April 15,2016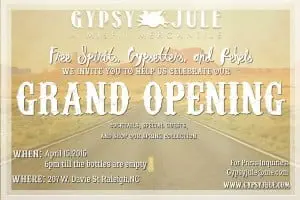 Gypsy Jule, the Raleigh based eclectically styled mercantile featuring women's and men's fashion, accessories, and curated collection of re-purposed and new home decor, celebrates their grand opening with a party April 15,2016. Come and explore our Spring collection, sip cocktails, and experience our unconventional bohemian gypset approach to living.
When you walk through our doors or browse our online shop, you'll find apparel that is for the free spirited soul, the adventurer, the one that walks to his/her own beat. Mostly casual, we aim to bring you a mix that will excite and add value to your journey. Imagine a closet filled with easy to wear, casually exotic and utilitarian apparel. We believe in artisan quality shoes created with a modern yet timeless style. Decor for your casa that isn't stuffy, nor follows any rules, we create a melody of highs and lows to create an entertaining yet homey feel. Vintage, new and creative combinations that aren't copycats. Browse our selection of handmade and repurposed items that come together in a one of a kind way. Our style of design is characterized by "something old", "something new" and "something creative".
Gypsy Jule opened back on Black Friday, November 25, 2015 but the timing wasn't right for a truly free spirited celebration. With the warmer temps and kicking off of festival season, Spring was the perfect time for a worthy celebration. "We are excited to be hosting our Grand Opening celebration with new and old friends. It's been fun to see people get excited about retail in downtown and we love bringing our eclectic and rustic style to share with all of you." Says Julie Sezer, owner of Gypsy Jule. Located in the L Building of Raleigh's Warehouse District, Gypsy Jule will open it's doors to party goers taking them on an unexpected journey into the world of gypset at 6 pm till the drinks are gone.
About Gypsy Jule
Gypsy Jule is tailored to a journey that is upscale but rugged, classy yet adventurous. In fact, we think that the current mode of life can be compared to a modern wild wild west. If you think about it….things aren't really that different, just more modern. We thrive on the unconventional bohemian gypset approach of living. This exotic, down to earth lifestyle combines the carefree life of a gypsy with the sophistication of the jetset.