Join Google Fiber for a free workshop designed to help small and medium businesses and nonprofits like yours optimize their web presence.
During this interactive workshop, attendees will be able to ask questions about a variety of Google tools, receive one-on-one training on our suite of advertising and productivity solutions, and learn about our Supplier Diversity Program.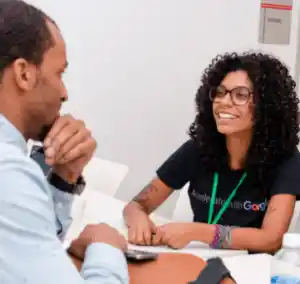 Inclusion Online Matters
We believe every business owner should have equal opportunity to grow and thrive online.
Today's fast-paced culture and complex global economy are fed by a thriving web. Yet there are many who don't have as strong a presence on the web as they should. Changing that is not only the right thing to do, but also speaks to Google's mission. At its best the web can be a tool to help every individual prosper — but too often we see the same barriers to inclusion online as we do offline. At Google, we're working to remove these barriers so we can create more opportunities for everyone to succeed. This is why we've made the Academy available as a trusted resource to help businesses like yours grow.