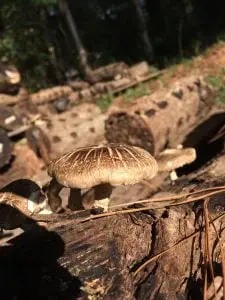 Come out on Saturday October 22nd starting at 1:00pm to the Well Fed Community Garden at 1321 Athens Dr. Raleigh, NC. The workshop will be conducted by Will Hooker, a form NCSU Professor and friend of the garden.
There are only 15 open spaces for the workshop, so please register soon to reserve your spot!!
You will learn all you need to know about growing your own Shiitake mushrooms, gain hands on experience in starting mushroom logs, and get to take home 1 or 2 logs of your own! Your logs will yield potentially 2 lbs or more for 5 years! 
Hooker is very knowledgeable with plenty of previous workshop experience and this is a great place for you to begin. 
Workshop cost is $20 and one mushroom log. More logs are available.