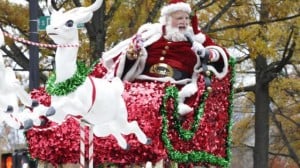 The Raleigh Christmas Parade, has been presented by the Greater Raleigh Merchants Association since 1944.
Attracting an estimated 60,000 spectators from across the state to downtown Raleigh and reaching more than 250,000 through television and live video streaming of the parade is the largest single-day event in Raleigh each year. And it's the largest parade between Atlanta and Washington, D.C. GRMA thanks our generous sponsors for supporting this North Carolina tradition!
Parade Route:
Begins on Hillsborough Street at St. Mary's Street
proceeds to the State Capitol
turns right onto Salisbury Street
turns left onto Morgan Street
Turns right onto Fayetteville Street
and continues to Davie Street where it disbands
Length of Parade Route:
Approximately 1.2 miles
Duration:
The Parade will last about 2.5 hours.
For further information or if your are interested sponsoring a float or balloon, please call the Greater Raleigh Merchants Association at 919-755-9235 or email at info@grma.org. Our website is www.grma.org.