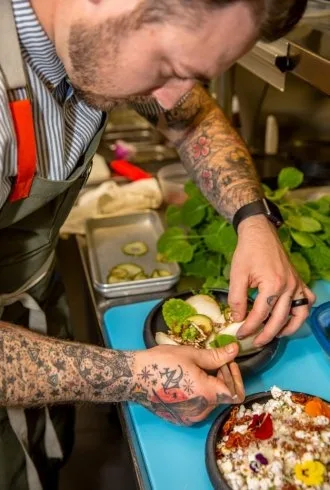 18 Seaboard is excited to announce the launch of their new bar snacks menu on April 6, 2018. Under the guidance of executive chef and owner Jason Smith, chef de cuisine Jake Wood created an inventive menu featuring ingredients from the Carolina's. Patrons are encouraged to sit at the 18 Seaboard bar to discover creative culinary and beverage pairings.
Chef Wood states, "the new bar snacks menu will be a more approachable option for people who might not be looking for a full on sit down dinner. It will be very chef driven and change with the seasons. It's a great way to kick off dinner with a drink and a snack or even wind down with some friends after a long day at work."
Expect to find elevated bar food on the new menu like oysters topped with pimento cheese and prosciutto, and BBQ duck buns, to name a few. The full bar snacks menu is below.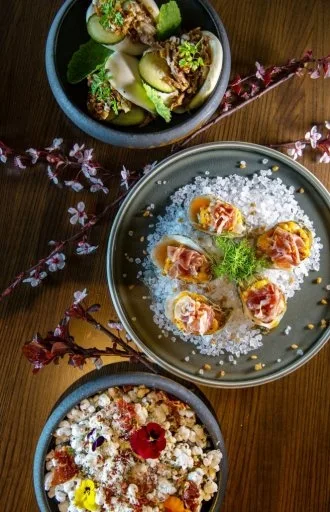 Bar Snacks Menu
Geechie Boy Mill Blue Indigo BBQ Popcorn + Country Ham + Sea Love Sea Salt, $5
BBQ Duck Buns + Garlic Dill Pickle + Alabama White BBQ Sauce + Puffed Farro Piccolo + Micro Chervil, $12
Core Sounders + House Pimiento Cheese + Prosciutto Maestri + Crystal Cane Syrup, $14
Blackened Swordfish Sliders + Green Tomato Jam + Green Tomato Relish + Crema, $12
Seaboard Burger + House Bacon + House Pimiento Cheese + Smoked Duke's Mayo + LTOP, $18
18 Seaboard Hand Pie Program, $5 each
Flavors include: Chocolate + Sea Salt; Purple Sweet Potato + White Chocolate; Apple + White Cheddar
About 18 Seaboard:
Housed in downtown Raleigh's "Shops at Seaboard Station"— a repurposed, historic coastal train depot— 18 Seaboard is a top-rated Triangle go-to destination for cuisine, service, hospitality and special events. Chef Jason Smith and his wife Lauren dreamed of owning a special restaurant. In 2006 they opened the doors to 18 Seaboard. Chef Smith leads a culinary group committed to serving contemporary Southern inspired dishes with over 60% of ingredients sourced from North Carolina farms, ranches, fishmongers and dairies.
Connect with 18 Seaboard on Facebook and Instagram!