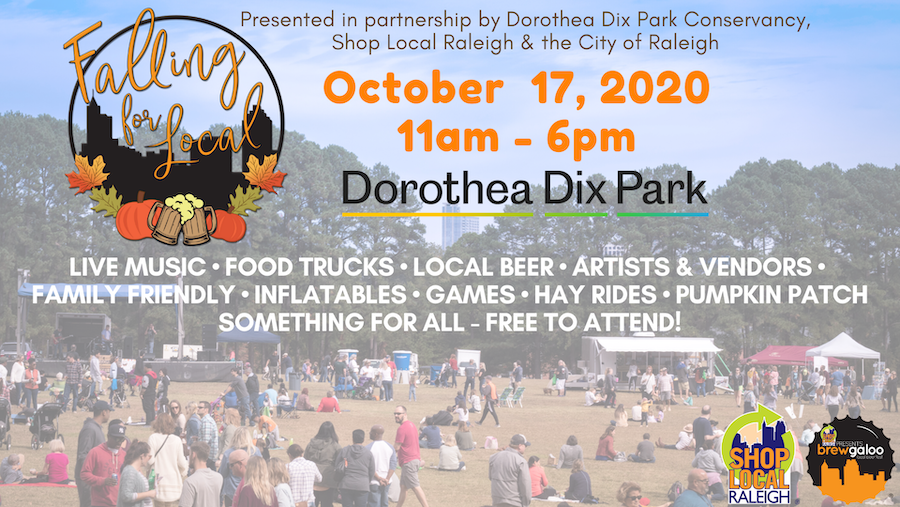 Falling for Local
October 17, 2020 from 11-6
Dorothea Dix Park
Presented in partnership by
Dorothea Dix Park Conservancy, Shop Local Raleigh, and the City of Raleigh
Celebrate Autumn in Raleigh with a Market & Festival at Dorothea Dix Park!
This family friendly event is open to the public and FREE TO ATTEND! Enjoy live music from local talent and demos from local businesses all day long as well as loads of FALL FUN with hay rides, inflatables, lawn games, kids activities, photo ops, and a pumpkin patch all FREE of charge!
#ShowSomeLocelLove and support one of the many independent businesses featured at Falling for Local. Dine from dozens of local food trucks & food tents. Shop with over 100 local & independent vendors. Sample NC craft beer & ciders by the taste or the pint (drink tickets required & must be 21+ for all alcohol purchases).
Live Music - Local Makers & Vendors - NC Craft Beer - Food Trucks - Kids Activities - Hay Rides - Inflatables - FREE Pumpkin Patch!
2019 Lineup - 2020 Coming Soon!
Bands
MUSIC STAGE 1
12:30 – 1:30 Sadie & The Mad Ryans
2:00 – 3:00 Shiloh Hill
3:30 – 5:00 Will McBride
MUSIC STAGE 2
11:00 – 12:00 Michael Daughtry Music
12:30 – 1:30 Tyson Brothers Band
2:00 – 3:00 Static Diversion
3:30 – 5:00 Red Sky Moon

DEMO STAGE
Oak City Canine
The Dabba Company
Core Fitness
Stage Door Dance
Special Guest Appearances:
Hamilton the Pig
Oak City Kitty, Tucker
Food Trucks
Arepa Culture NC
Bam Pow Chow
Baozi
Beefy Buns
Bo's Kitchen
Caribbean Kicker
Curry in a Hurry
Dusty Donuts
Fuzzy's Empanadas
Gussys Greek Street Food
Holy Mole
JAM Ice Cream and Shaved Ice
Lumpy's Ice Cream
Mama Voula's Authentic Greek
MoonRunners
Not Just Icing, Inc
Oak City Fish and Chips
PARTY IN A PITA
Poblanos Tacos
Pork In The Road
Qspresso LLC
Queso Monster
Sarges
The Corner Venezuelan Food
Trash Talk Food Truck /Trash Talk LLC
Virgil's Tacos
Will and Pops
Vendors
A Carolina Soiree
Adara Spa
Addictive Creations
AI TO YOU
Animal Emergency Hospital and Urgent Care
Apt. N Coffee
Author Sarah King
Baker Roofing Company
Bdazzle Jewelry
Be Like Missy
Beautiful Chaos Mobile Boutique
Big Bear Little Bear Gifts
Binky and Bell
Blondies Cakes
Bones Tie Dye
Brandys soy candles
Burneys Sweets & More of Raleigh
BytheGrace AngelCakes
Calvander Company
Carolina Honey Boutique
Chaza Hotsauce
Christina Britt Studio
Civic Flags
Ck Creations
Courtney's Cozy Crafts
Crossroads Kettle Corn Popcorn
Crystal Tulip Designs
daleism Bottle Openers
Dawn of Health Chiropractic
Designs by Trish
Earth Stone Jewelry
Elcie
Ellington&Rose
Enloe Charity Ball
Furbaby Desserts
Get Your Sparkle On Fairy Hair
Glam boutique
Harmony Farms Natural Foods Store
Heather & Sage Art
Heirloom Innovations By Ted Jay
Heyday Essentials
IngenuiTea Brews – Kombucha, Coffee & Tea
InnerBeautyShop
Jay's Italian Ice
Jens Cookie Kitchen
Jones Lemonade Slushy
Josie and Sons LLC
K9Caps
Killer Toffee
Little Blue Macaron
MaJestik Wraps
Mama Bear's Baby Beads
McCarthy Metal Roofing
Moon Street USA
Mythical Inferno LLC
Needle Nuggets
Nons Salts
Oak City Hot Sauce Co
Oak City K9
Oak city wood co
Oak Heart Veterinary
Oberweis Dairy
OGBB
Operation Catnip-Raleigh, NC
Papriqqa, LLC
Pet Wants East Raleigh
Pinup Studio
Porch Dog Pots
Rebekah Evans
Red Oak Dentistry
Revolution Chiropractic
Royal Cheesecake & Varieties
Royalty Hemp
Ruckus Pizza
Ruff Stuff Treats
Saving Grace
Seasaw Crafts
Shop Bofemme
SKP ink
Stage Door Dance Productions
Sterling Berry LLC
Sweet and Fluff NC
The CIRCLE Lab
The Elderberry Lady, LLC
The English Garden
The Evelyn Company
Tilted Stage Costumes
T-Mobile Express Stores
Tobacco Road Harley-Davidson
Treasure Quest Mining
Triangle Cellular Repair
Unleashed the Dog & Cat Store
US Census
Wallaby Content LLC
Wicks for Wags
Wondering Willow LLC
Wood She?
WoodSmith's Custom Home Decor
Wordsky Designs
World Accessories, LLC
Yvonnes soaps
Zoe's Bookmarks and Reading Accessories
Zzesty's Creations designer wreaths and porch & patio makeovers
NC Breweries & Cideries
Purchase Beer + Cider Tickets
– Purchase tickets to use at brewery tents
– Ticket Bundles are available to purchase before or at the event: Buy Beer Tickets Now
– Pint = 5 tickets; Sample size = 2 tickets
– Breweries will not take cash or credit card for beverage sales; tickets only
– ID check and wristbands required
Aviator Brewing Company
Big Boss Brewing Company
Billy Beer
Bombshell Beer Company
Brewery Bhavana
Brice's Brewing Company
Bull City Ciderworks
Carolina Brewery
Carolina Brewing Company
Clouds Brewing
Compass Rose
Cotton House
Crank Arm Brewing Company
Double Barley Brewing
Fainting Goat Brewery
Fortnight Brewing Company
Fullsteam Brewery
Gizmo Brew Works
Little City Brewing
Lonerider Brewing Company
Mordecai Beverage Company
Neuse River Brewing
Ponysaurus Brewing
Tobacco Road Brewing
Trophy Brewing Company
Vicious Fishes Brewery
FAQs
Food, Beverages + Restrooms
Purchase from the food trucks! There is no drinking water available at the park, and we only have port-a-johns available, so come prepared.
Dogs
Dogs are permitted, but please use your best judgment regarding whether your pooch will enjoy the event. All dogs must be leashed, and please clean up after them.
Weather
If we need to postpone due to inclement weather, we will post on social media @ShopLocRaleigh & @RaleighParks on Twitter and Raleigh Parks and Shop Local Raleigh on Facebook.
Getting There + Parking
The most convenient park entrances to use are Hunt Drive off of Western Boulevard or Blair Drive off of Centennial Parkway. Look for signs along Umstead Drive. Parking is available in the four parking lots off of Umstead Drive. Due to the high volume of people and limited parking, please carpool if possible. Do not drive on or park in the grass – driving on tree roots damages the trees and we want to keep the 150 year old oaks around for as long as possible!
Accessibility
Dorothea Dix Park continues to work to be accessible and welcoming for visitors with disabilities and limited mobility. Planning to attend and have questions about accessibility? Contact Joseph Voska, Programs and Operations Supervisor, at 919-996-6688 or joseph.voska@raleighnc.gov.
Accessible parking with reserved spaces are available in all lots.
Accessible port-a-johns will be located near the event location.
Portions of the Dorothea Dix Park that have uneven surfaces are not ADA accessible.
This event will take place on grass, uneven surfaces, and across all forms of terrain.