SHOP LOCAL RALEIGH PRESENTS THE 78th ANNUAL ABC11 RALEIGH CHRISTMAS PARADE

It's almost here! You won't want to miss the pageantry and excitement of the 2022 ABC11 LeithCars.com Raleigh Christmas Parade presented by Shop Local Raleigh on November 19, 2022 in Downtown Raleigh. The parade will kick off the holiday festivities at 9:30am street side and on ABC11, the ABC11 streaming apps, and the ABC News Hulu channel.

Presented by Shop Local Raleigh, this annual event is the largest parade between Atlanta and Washington D.C. Over 65,000 people will line the street, in addition to 250,000 thousand more watching at home. The parade in its 78th year, has happened every year minus a brief pause during WWII and a virtual parade on ABC11 the first year of the pandemic.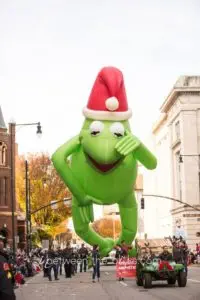 "The Raleigh Christmas Parade is a beloved community tradition and the official kickoff of the holiday season. The parade brings so much joy to those watching in person and at home and we love that it's a gift for all" said Jennifer Martin, Executive Director Shop Local Raleigh.
The parade is hosted by ABC11 Eyewitness News morning anchors Barbara Gibbs, John Clark and ABC11 First Alert Meteorologist Kweilyn Murphy. ABC11 evening anchor Amber Rupinta and morning traffic reporter Kim Deaner will serve as street-side reporters. ABC News reporter Gio Benitez will be a special guest on the ABC11 float, along with anchors Steve Daniels, Lauren Johnson, Joel Brown, Chief Meteorologist "Big Weather" Don Schwenneker and the Eyewitness News Team. Watch for exclusive live performances and special guests you'll only see on the live broadcast on ABC11.
"ABC11 is once again thrilled to welcome parade watchers back to Downtown Raleigh, and bring the joy of the holiday season to our TV and streaming audiences" said Rob Elmore, President and General Manager of ABC11.
The show on ABC11 will feature special holiday performances by hip-hop duo Tag Team, American Idol finalist Leah Marlene, the Steep Canyon Rangers, and GangstaGrass, just to name a few. 
The mile-long parade will feature 115 entries, including energizing bands, themed floats, super-sized balloons, marchers, twirlers, and tons of fun! Come out early to grab your spot and don't forget your camera to capture all of the family memories you will be making. 
About Shop Local Raleigh
Shop Local Raleigh (SLR) is part of a growing national movement of communities rallying to support their independent businesses. Shop Local Raleigh is about connecting, supporting and growing independent businesses to strengthen and enrich our community.  SLR currently serves over 1000 locally owned and independent businesses. 
SLR welcomes local, independently-owned businesses throughout Wake County. Businesses and consumers can learn more at www.shoplocalraleigh.org.
About ABC11/WTVD-TV Raleigh-Durham
The only local news station with three downtown newsrooms (Raleigh/Fayetteville/Durham), ABC11 Eyewitness News provides 47.5 hours of local news every week, serving more than 1 million households in a 23-county area in North Carolina and Virginia. Eyewitness News also provides news, weather and sports information 24 hours a day on ABC11.com, the ABC11 mobile news app and the new connected TV app available on Roku, Fire, Apple, and Google TVs. ABC11 WTVD is one of eight ABC Owned Stations as part of the Disney Media & Entertainment Distribution division. For more information, go to http://www.abc11.com.
Website:  http://www.abc11.com.
Instagram:  https://www.instagram.com/abc11_wtvd/
Facebook:  https://www.facebook.com/ABC11/
TikTok:  https://www.tiktok.com/@abc11_eyewitnessnews
Twitter:  https://twitter.com/ABC11_WTVD
###
Media Contact: Jennifer Martin: jennifer@shoplocalraleigh.org or 919-755-9235