Where Business and Community Connect
Introducing Automatic Renewal!
We are taking one thing off of your to-do list and excited to announce automatic renewal for membership!
Login to your Member Dashboard to renew your membership and your account will be setup for recurring payments. Your annual membership dues will be billed to the card on file at the end of the 1 year membership term. You will receive email reminders leading up to your expiration/billing date and can opt-out at anytime by simply replying to those emails. Click here for instructions on how to login to your account or watch the video tutorial below. If you are unsure of your login information, email contactus@shoplocalraleigh.org for assistance.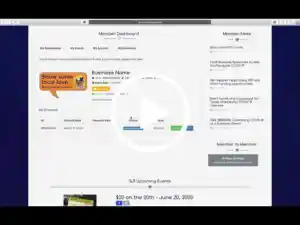 What else can you do from your Member Dashboard?
Edit your listing details (description, hours, photos, special offers, etc.)
View expiration date
Renew or upgrade your listing
Add events and additional businesses
Change your account password
View Member to Member offers, upcoming events, and Member News
COVID ASSISTANCE
We know this is a difficult time for many of our small business friends and are here to help you in anyway we can. We value you as a member of SLR as well as a unique part of the local business community. If you are experiencing financial hardships and unable to renew your membership at this time or if there is anything we can do to be of assistance to you and your business, please do not hesitate to reach out to our Executive Directer, Jennifer Martin at jennifer@shoplocalraleigh.org.
Additionally, if you are in a position to do so and would like to sponsor a local business in need please visit the Sponsor a Local Business page where you can cover the cost of a membership for an establishment of your choice or chip in any dollar amount to help offset the cost of membership for a business in need.
Resources for your Business Reopening
ORDER LOCALLY SOURCED PPE!
Shop Local Raleigh has worked with local suppliers to place bulk orders of PPE supplies so that we can pass the savings on to you. Place your orders through the SLR website and we will be in touch to schedule a time for local pickup or delivery.
In search of a reusable mask? Checkout our list of locally made masks and retailers!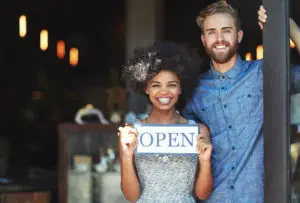 CURRENT OPERATING HOURS
As businesses begin to reopen we want to be able to share with the community the most up to date information regarding your operating hours, pickup and delivery options, as well as any other exciting news you would like to share. Please take a brief moment to complete this short form.
Here For Good, Helping NC Small Business!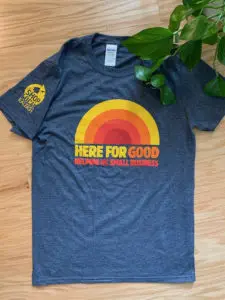 Shop Local Raleigh has teamed up with local artist Paul Friedrich & Raleigh Screen Print to help support small businesses in Wake Co.
Purchase a Here for Good t-shirt to help support small businesses during this time of need. Proceeds from shirt sales have been placed into a fund to help cover operating costs for small businesses in need.
Thank you for your support and remember to #ShowSomeLocalLove whenever you can!
Members Only GRMA/SLR Facebook Group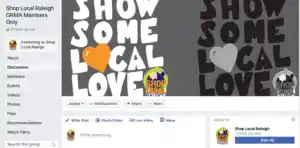 Stay in the know and get the latest information as soon as we have it available. Reserved for members only, this is a great place to ask questions and connect with other local businesses. We ask that you refrain from using this page to promote your business so that it can remain a valuable resource to share important info. Any self promotion will be removed.
Join today if you haven't already!
SHOP LOCAL ON THE SLR WEBSITE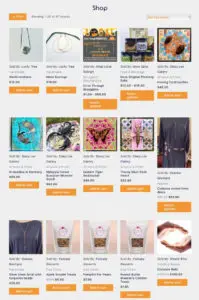 We recently launched the Shop Local Raleigh vendor store on our website and are continuing to add items daily!
Each small business has their own virtual storefront allowing you to share a link with just your items. Not only are we making it easy for the community to shop local from home, but the best part is participating businesses retain 100% of sales from the website!!!