Where Business and Community Connect

Happy Independents Week!
Celebrate your Independence with Independents all week long!
Take the indie challenge and support local this week in celebration of Independents Week – June 28 thru July 4. Each day leading up to the 4th we have created a call to action to help you celebrate AND we will make it easy for you to find local businesses to support by sharing specials and happenings on our Facebook and Instagram pages. You can also use our website directory to find local businesses in your area and be sure to check out some our recent blog posts for more ways to support local!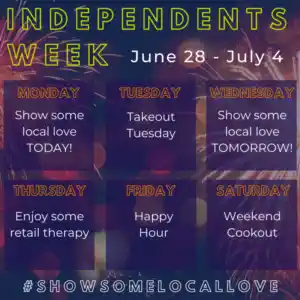 Indie Challenge
Take the Indie Challenge and support local everyday this week! Checkout the Shop Local Raleigh member directory to find ideas for each theme and be sure to follow us on social for all things local!
Instagram and Facebook Stories
Use #IndependentsWeek and #ShowSomeLocalLove hashtags and this image to tag a bunch of your favorite local businesses. Tag @ShopLocalRaleigh on Instagram and we'll share it in our story!
What's open in Raleigh?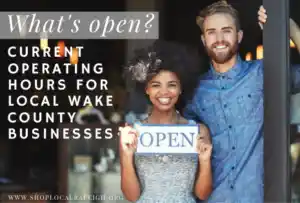 As businesses begin to reopen many are operating under modified hours or offering pickup and delivery options. Checkout our blog post for a list of open businesses along with their current hours and what shopping options they offer to customers.
Here For Good, Helping NC Small Business!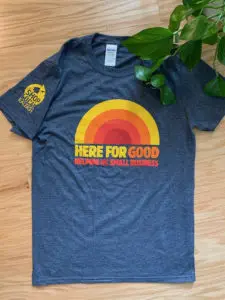 Shop Local Raleigh has teamed up with local artist Paul Friedrich & Raleigh Screen Print to help support small businesses in Wake Co. 
Purchase a Here for Good t-shirt to help support small businesses during this time of need. Proceeds from shirt sales have been placed into a fund to help cover operating costs for small businesses in need. 
Thank you for your support and remember to #ShowSomeLocalLove whenever you can!
SHOP LOCAL ON THE SLR WEBSITE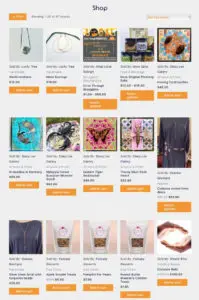 We recently launched the Shop Local Raleigh vendor store on our website and are continuing to add items daily!
Each small business has their own virtual storefront allowing you to shop from all of just specific ones. Not only are we making it easy for you to shop local from home, but the best part is the businesses retain100% of sales from the website!!!