Welcome to Meet the Owner! Shop Local Raleigh is committed to telling the story of Wake County's locally owned, independent businesses. We take pride in the character these businesses bring to our community and local economy. When shopping at a locally owned business, you are more than likely interacting with the owner! We started this blog series to help you get to know the local business owners in our community.
This time we interviewed Sara Fitzpatrick of The Cupcake Shoppe Bakery in Glenwood South. The Cupcake Shoppe Bakery is a small batch bakery that creates top quality sweets and pastries. Sara believes in no shortcuts baking and created an open kitchen concept that allows visitors to watch the baking in action. We met with Sara to learn more about her business, get some advice on opening in downtown Raleigh and her favorite local businesses to support.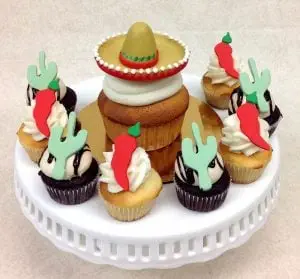 Sara started her career in the corporate world, working for Johnson & Johnson for seven years. She had to travel quite a bit and lived in three states over those seven years.
Seeking more from her professional life and wanting to settle down in one city, Sara decided to open a place that merged business with passion. She wanted to have a business that allowed her to use her creativity.
Sara always loved to bake and it was more creative than her previous position in corporate America.
In 2007, Sara opened the Cupcake Shoppe Bakery in the heart of the Glenwood South district of Raleigh. It was the first locally owned specialty bakery in downtown Raleigh.
"I wanted to open a business that allowed for more creativity," Sara explains, " I wanted to grow with the community I opened the business in."
Ten years ago today, Glenwood South was in the early stages of its redevelopment. The apartments/retail at 222 Glenwood and the Solas building were finishing up construction. The street was a far cry from its bustling atmosphere we know today.
The redevelopment of the district, still happening today, gave Sara the opportunity to open the Cupcake Shoppe in the district early on and allowed her business to grow along with the community.
"Over the past ten years, this place has gotten a lot busier," Sara explains, " before it was just the Hibernian Pub and a few other restaurants."
"My favorite part since opening is seeing all my regular customers," Sara said, "It adds a personal element and it builds community in the district."
The Cupcake Shoppe Bakery has become the neighborhood's sweet spot over the past ten years. Originally just a bakery, Sara has added a small café, which has allowed people to use the space as a local hangout.
The café offers free Wi-Fi for guests and proudly serves locally made Larry's Beans Coffee. The Cupcake Shoppe can accommodate birthday parties, theme parties and hosts special events throughout the year including First Friday, Valentine's Day dessert dates and Mothers' Day.
"Being part of this community is fun because I get to try a lot of other local concepts and get to know my fellow entrepreneurs."
Sara likes supporting many local businesses! Some of her favorites include Runologie, Nickelpoint Brewing, Tusca Brave and Hayes-Barton Café.
Go ahead and treat yourself with a cupcake and visit Sara at the Cupcake Shoppe Bakery today. Book her to cater an event or just pick up an end-of-the-day sweet treat!