Meet the Owner Presents…
Jill Rossi- The Devilish Egg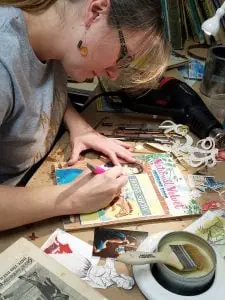 Jill Rossi is a North Carolina native, coming from Charlotte. Her passion for art was prevalent from an early age. Her mother was a crafter, so she grew up with art surrounding her. She was always making things and putting an artistic flair on everything she touched. "My teachers from elementary school even noted on my report cards that I enjoyed making things," said Rossi.   She knew that her career would follow her interest in artistry, and began studying interior design at The University of North Carolina at Greensboro. After attending UNCG, Rossi moved to Raleigh with ambitions to become an interior decorator. After four years of living in Raleigh, Rossi and her husband moved to Rhode Island, where she completed her graduate degree in interior design.
While being a crafter was a hobby of Rossi's, she never saw it being the focus of her career. Rossi had rented a space of her own, to practice the various art forms she loved and enjoyed. The original space held all the different disciplines she practiced, from a full wood shop to a kiln. Rossi had taught at UNCG and Meredith before and was often asked if she taught classes on her own. From the demand in the area, she began thinking of teaching her own variety of art classes.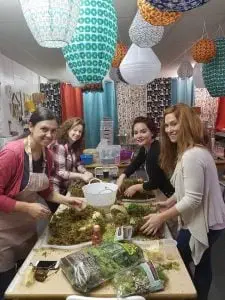 In 2017, a series of eye-opening events happened and Rossi and her husband decided to make a life change. They both quit their jobs and spent two months traveling Australia with their children. Upon returning, Rossi had seen the commercial "paint and sip" classes and became inspired to create her own spin on the idea. "The idea made artwork accessible to adults that would normally not have the opportunity," said Rossi.
During her work at grad school, Rossi had created characters for her thesis. The characters became her "mascots" and one was named the "Devilish Egg." The mascot name became the name of her own art studio, later becoming the name of the shop hosting the BYOB art classes.
Rossi has lived in the Raleigh for 18 years and has always wanted a shop of her own in Five Points. She stumbled upon the space for The Devilish Egg and knew it would be a great working space for her hobby. In the space, Rossi says there is a "clean space and a dirty space." Meaning there is a space to do woodworking and pottery, and a space to sew and use paper. The studio space transformed into a classroom as The Devilish Egg in September 2017.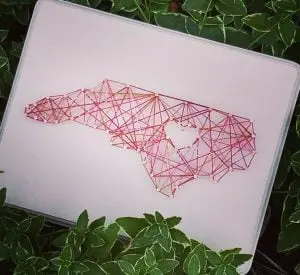 The Devilish Egg offers a variety of classes where you can make things such as soap, candles, string art, terrariums, succulent wreaths, painted signs, solid lotion bars…the list goes on and on! The Devilish Egg is a space without judgment, for adults to who would normally be intimidated by making artwork, a chance to try creating something of their own. Currently, The Devilish Egg holds classes every Thursday, Friday and, Saturdays.
The Devilish Egg is moving to City Market this summer at 300 Blake Street. This will give the shop visibility and the opportunity for a great spot for a date night. The Devilish Egg is not only for dates either. "We see millennials to grandmas," said Rossi. The clay classes are particularly popular with both men and women. "I try to compare things that you might do in your daily life to something we do at The Devilish Egg," said Rossi. "If you can cut out cookies, if you can brush your teeth, if you can make dinner, you can make art."
Rossi has seen the growth in Raleigh and believes that there is something different about the local community in the area compared to other nearby cities. "The local vibe in Raleigh has momentum," said Rossi. Since opening her own business, shopping local is a priority for her. "I understand what it means to the small businesses, and many years ago I vowed to never go to a chain restaurant. It is just something we do not want to support," said Rossi.
Rossi states that the hardest thing about opening her own business is the marketing aspect. In hindsight, she wishes she would have hired more staff sooner, to help get the ball rolling with classes. Currently, Rossi teaches all the classes on her own, but is planning on partnering with Adventures in Bloom and Sticky Bottoms to create classes through The Devilish Egg. For advice for someone starting their own business, Rossi says to do your research and try not to get discouraged. "It has been hard to overcome the obstacle of letting people know that our classes are fun and easy for everyone."
To describe The Devilish Egg as a genre of music, Rossi said eclectic. "We are a bit of everything. Just like a huge salad."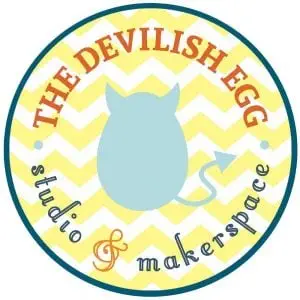 Join The Devilish Egg for a BYOB art class!
Written by Megan Brown
Shop Local Raleigh Intern
The Devilish Egg- BYOB Craft Classes
https://www.thedevilishegg.com/
Shop Local Raleigh is committed to telling the story of Wake County's locally-owned, independent businesses. We take pride in the character these businesses bring to our community and local economy. When shopping at a locally-owned business, you are more than likely interacting with the owner! We started this blog to help you get to know these local business owners, in our community, better.