Meet the Owner Series presents…
Pet 'n Nanny
Shannon Arner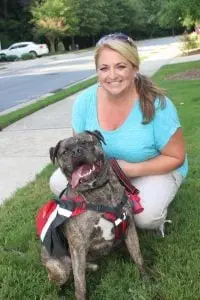 Shannon Arner is a native of Raleigh and started her career working with animals by volunteering in a Vet's office during her time at East Wake High School. She had made a relationship with the Vet and followed her from office to office in the coming years. Following high school, she attended the University of North Carolina at Wilmington, before transferring to Meredith College. While at Meredith, Arner participated in a program that partners with North Carolina State University, allowing her to take Veterinary Technician classes through the NC State Veterinary School. She graduated from Meredith with a degree in Sociology, but followed a career working in a veterinary office. From becoming a volunteer, to a veterinary assistant, to a veterinary technician, Arner followed her interest with working with animals.
Arner recognized the frequency of pet owners asking vet techs for one on one care, in their homes, for their pets. These pets needed special attention due to a negative reaction from being boarded in a typical pet boarding facility. This would include pets who were physically hurting themselves from the anxiety that came with being away from their homes, and Arner saw the need for professional, in-home, pet sitting. One of her friends had moved out to San Francisco and during a visit, Arner saw in California they had market for professional pet sitting. She had come into contact with four different pet sitting services in San Francisco and educated herself on the business. "They essentially mentored me and on the east coast, there was no one for me to talk to about starting this type of business," said Arner. The business of pet sitting for her grew from then on, making Arner a sole proprietor in 2000. Pet 'n Nanny is an alternative to boarding and Arner stresses she never puts down boarding, her business is another option for the pets who do not respond as well to being boarded. (Photo below is taken by InBetween The Blinks).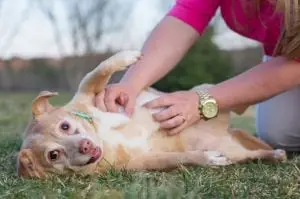 As Certified Professional Pet Sitters (CPPS), Pet 'n Nanny offers a wide range of services for pets. Some of the services include mid-day dog walks, dog care, cat care, pet taxi and playdates. The mid-day walks provide Pet 'n Nanny with consistent, year long clients. "In off season, dog walks are our bread and butter," said Arner. 65-75% of their clients are what Arner calls "vacationers." This includes single professionals, families who vacation, etc. Pet 'n Nanny predominantly cares for dogs and cats but, they offer services for birds, chickens or any other pocket pets. Pet 'n Nanny covers Raleigh, Wake Forest, Youngsville and Rolesville. Arner is hopeful to grow her business into the Apex area by Summer 2018. There are 13 employees, ages 20-50s, and five vet techs on staff. When searching for employees, Arner says she is looking for someone responsible, and who will treat someone's home as if it is their own. "They're an extension of yourself," said Arner. "Our job is harder than you think!"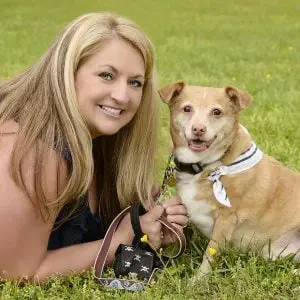 Pet 'n Nanny uses a software for owners to stay up-to-date on their visits. Each pet has a profile with the owner's information and the pet's information. When an employee of Pet 'n Nanny visits the home, they will check-in and check-out through the app, allowing the owner to know when they arrived and left their home. With the app, the pet sitter will take a picture of the pet for the owner and includes a "journal" entry of their time with the animal. From the business side of the app, Arner can insure her employees are taking care of the animals properly with a checklist of items such as "fresh water given", "treat", or "food given." The client will receive the journal feedback from each visit and Arner has seen a positive reaction from using this type of application. Other features include GPS, client portal, and invoicing of clients. "It helps me know what is happening," said Arner. "I have a backup plan, for a backup plan, for a backup plan!"
Arner still visits homes and primarily works with pets who are in need of medical services. "I could write a book with what I have seen working as a pet sitter," said Arner. "There are funny stories, happy stories, rewarding stories, but then there are also sad stories." Pet 'n Nanny treats every home and pet with the best care possible. Pet 'n Nanny caters to what Arner refers to as a "pet parent" rather than a "pet owner." In situations where employees of Pet 'n Nanny come into contact with the mistreatment of animals, Arner will report the pet owner and guarantees the pet will find a new home. From working in the pet industry for almost 20 years, Arner has seen in recent years, the need for medical attention for pets has grown tremendously. "Every year, we have more diabetic pets," said Arner. "I don't know what it is, but we have more pets in need of insulin injection than we have ever had."
There is no store-front to Pet 'n Nanny but, Arner says they don't need one. They have a storage facility where employees can get supplies such as goodies, placemats and other necessities. Throughout the process of creating Pet 'n Nanny, Arner's husband Gerry, has been a huge help. At first, he started working part-time, while pursuing his own career. When Pet 'n Nanny grew large enough, he came on full-time and became a co-owner, focusing on training and business logistics.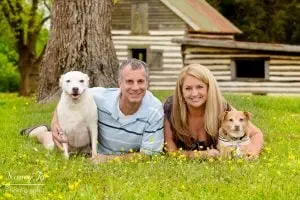 I asked Arner how she would describe Pet 'n Nanny as a genre of music. She replied, "You're going to think I am such a nerd, Big Band Swing music." To explain, she told me her employees leave music on for the pets, and she typically chooses big band/swing music with fun upbeat music with some ease.
Arner describes Raleigh as the "heartbeat of entrepreneurs." She loves the growing amount of local businesses in the area. Raleigh to her, is concentrated with driven people who are looking to start their own business. "It might be the colleges around here, but I feel that students are learning to be empowered to start their own businesses," said Arner. Every single year, the amount of people with pets increases. "We have more business every year and a large untapped area for us to grow," said Arner. Her advice to someone just starting their own business is "to be persistent." She advises them to not give up during the toughest parts and they will find happiness. "Not everyone is going to be your customer, and that's ok." Arner is very confident in Pet 'n Nanny and believes all business owners should be just as confident in their businesses.
Pet 'n Nanny has a pet sitting certification that no other pet sitting business in the area has. Arner participates in many different community outreach programs for animals and works with many different rescues in the area. "Because we are confident and we invest in providing the best service, that is what made us successful."
Written by Megan Brown
Shop Local Raleigh Intern
Pet 'n Nanny
919-539-3748