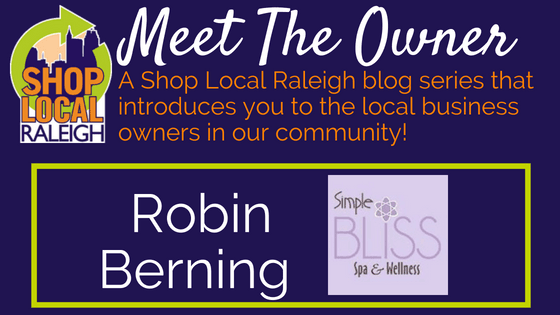 Meet the Owner Series presents…
Robin Berning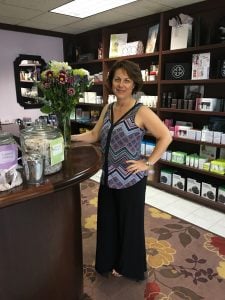 Robin Berning started her career as a nail technician 30 years ago. She was praised for her foot massages and many of her clients suggested for her to look into massage therapy. Berning decided to go to school to become a massage therapist and fell in love with it. She had been inspired to make her own business after working for a private spa that her friend owned in the DC area. After living in the DC area for 13 years, Berning and her family moved to North Carolina where she started working for herself. "I wanted to have professional bliss and I wanted to have a full service spa of my own," said Berning. After working for many different publicly and privately owned spas, she finally took the risk into her own business. "I had a very defining moment that I can still remember today, when my friend looked at me and said that I needed to open my own place."  After hearing that, Berning realized that the thought of owning her own place was always in the back of her mind, but the thought of going through with it was overwhelming. "It is scary to open your own business, it is really hard," said Berning.
She never thought about all the other aspects that had to come together to successfully open her own business and that she says,  "was one of the hardest parts." After moving to Raleigh, she knew that she had no clientele here and it would take time to build up a business. So, for two and a half years, Berning rented a tiny room at a personal training studio and worked there Monday-Thursday. On Thursday afternoon's she would travel back to the DC area and work at her friend's spa to help support the financial needs of her family.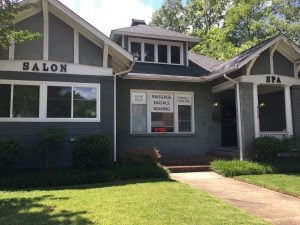 Her goal was to gain the clientele to be substantial enough to move forward with her business in Raleigh. Her next move was renting a room in a mansion off of Boylan Ave. "I used to pull out of my old location everyday and would look at the house across the street and say to myself that it would be a cute place to make a spa," said Berning. "Be careful what you wish for." That house went through a complete transformation, and opened in 2012 as Simple Bliss. The house was built in 1910 and the original layout was a residential duplex. It had ivy surrounding the entire outside, the roof was falling off, the siding had fallen off and the inside had become a "party house." For Berning, this was an example of divine intervention. The house seemed to become more of a reality for Berning's spa, but it was going to take a lot of work. She loves the space now and is so proud of the work she put into what Simple Bliss has become.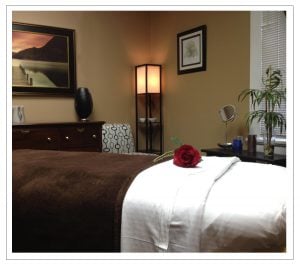 Simple Bliss offers a wide range of services from massages, facials, waxing services, nail services, energy healing, scar tissue therapy and craniosacral therapy. Berning's speciality includes working with scar tissue, where she sees many women that are affected by breast cancer and have gone through breast reconstruction surgery. A lot of her employees have medical backgrounds and treat patients with medical needs, unlike many other spas in the area.
Berning believes that going to a local business, gives the customer better services. Not only does this apply to her spa, but to all businesses in the area. Many chain retailers have to meet quotas and stick to a script, but for Simple Bliss, they are able to personalize their customer service. Berning loves to shop local and one of Bernings favorite stores is Galatea in Seaboard Station. Berning truly believes in self care and regularly partakes in all of the services the Simple Bliss offers on herself. "I live the lifestyle that I want to educate our guests about," said Berning. This is another way that independent, locally owned businesses are set apart from the chain stores. She educates her clients to become knowledgeable on living a healthy lifestyle and lives by example herself.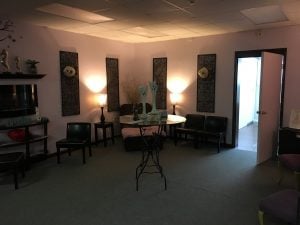 To describe her typical customers, Berning says that Simple Bliss really has the spectrum. She sees college students, moms, retired people, business workers; she sees them all. To my surprise, Berning told me that a lot of her regular customers are men and there is not a service that she offers that men also utilize. They partake in the same services that women do, including facials, waxing and pedicures!
One of her biggest pieces of advice for starting a business was to be flexible. There are going to be times when things don't work the way they were planned and as a business owner, you have to adapt to the situation. "When opening a business, the owner can be so hard on themselves and when things don't work out the way they were planned, we automatically feel like a failure," said Berning. "Admitting defeat makes you a hero."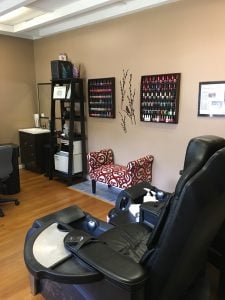 To describe her business as a genre of music Berning replied, "I don't know! I don't listen to anything other than massage music." Another employee at Simple Bliss, Amanda, described it as smooth jazz. The name 'Simple Bliss' came from Bernings desire to keep her business simple. "The goal of the business is to help people find their own bliss and we like to keep it simple."
Written by Megan Brown
Shop Local Raleigh Intern
Simple Bliss
113 N Boylan Ave, Raleigh, NC 27603
(919) 896-7641
https://shoplocalraleigh.org/wp-content/uploads/2017/07/Meet-The-Owner-6.png
315
560
shoplocalraleigh
https://shoplocalraleigh.org/wp-content/uploads/2014/07/shop-local-raleigh-logo.png
shoplocalraleigh
2017-07-18 10:49:15
2018-06-14 10:50:10
Meet the Owner- Simple Bliss