The Raleigh Beer Garden would like to introduce its latest round of new hires, a few thousand of them.
In the continuing drive to improve the world around us, the Beer Garden has established a new hive on its rooftop adjacent to the already functioning rooftop garden which is utilized in food and drink ingredients as the seasons permit. Beekeeper Ben Crawley installed the new hive and local artist Keely Lauren Cansler designed and painted it.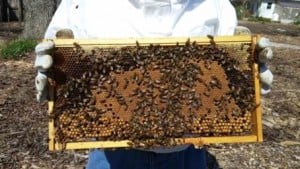 It is well documented that bee hives have been disappearing at an alarming rate due to various reasons.  Initiatives such as the Beer Garden hive help to improve that outlook and also to help raise awareness on the importance of bees to our sustainable culture.
Look for more honey-based ingredients to be coming to the food & drink menus soon enough.