What goes great with bluegrass? Barbecue! Tickets are on sale now for the Whole Hog Barbecue Championship during the Wide Open Bluegrass festival in downtown Raleigh, N.C. Ticket holders will receive a wristband that allows them access to the event as well as barbecue samples on Saturday, September 29, 2018 from 11:30am to 1:30pm at 2 E South Street, Raleigh, N.C. 27601.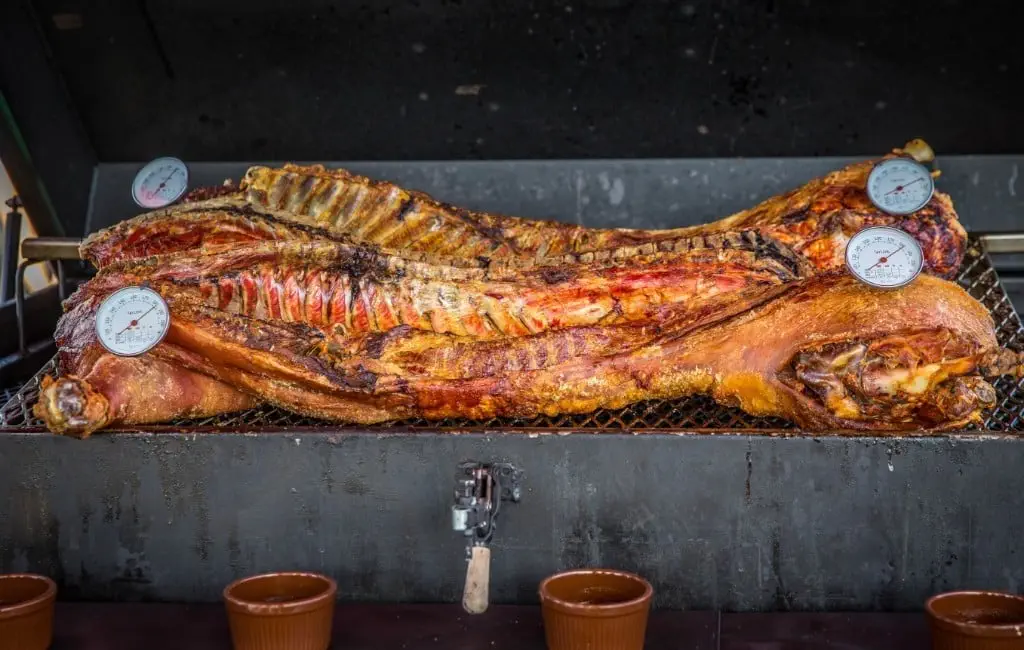 Exciting changes are coming to the Whole Hog Barbecue Championship. Instead of selling sandwiches throughout the day after judging is complete, festival goers will have the opportunity to purchase a wristband to sample directly from each cook and help select a people's choice winner.
The Whole Hog Barbecue Championship is the culmination of a series of barbecue cook-offs held throughout the state using North Carolina Pork Council-sanctioned rules. The winner of each local cook-off is invited to the state championship to compete for coveted trophies and cash prizes, not to mention bragging rights. In addition to the on-site culinary trophy for best whole hog barbecue, there are also trophies for best sauce, crispy skin and a blind-taste judging.
"We are excited to make changes to the State Championship that will allow the public to interact with our amazing group of pitmasters," said Jen Kendrick of the N.C. Pork Council. "For years, people have asked to try the barbecue of the winning pig. Now they can try all of them and select which is the winner for themselves."
Proceeds from the wristband sales will be donated to the InterFaith Food Shuttle and the IBMA Bluegrass Trust Fund, a non-profit organization that provides assistance to bluegrass professionals experiencing financial emergencies.
Tickets are $10 in advance or $15 the day of the Championship. The link to purchase tickets is: https://4agc.com/commerce_pages/16db70d2-ee97-4320-9b59-911f6626b8b5
About Whole Hog Barbecue
From March through September, in towns peppered throughout North Carolina and Virginia, some of the best barbecue cooks in the nation come together between 15 and 20 times a year to strut their stuff in the Whole Hog Barbecue Series cooking contests. The barbecue chefs who qualify in the local events then square off in October for the grand prize: the Whole Hog Barbecue Championship.
All of the events are organized and sanctioned by the N.C. Pork Council. The series celebrates the history and artistry of whole hog cooking, supports communities and nonprofits, and is proud to have a wide and growing fan base in North Carolina.
What sets Whole Hog Barbecue apart from other barbecue cooking competitions around the country is that at the Whole Hog Barbecue events, attendees get to chow down on the winning cuisine. Connect with Whole Hog Barbecue on Facebook and Instagram.