BREWGALOO IN RUNNING FOR BEST BEER FESTIVAL – USA TODAY
Raleigh's Brewgaloo® Nominated for Best Beer Festival and Needs Your Help
USA Today, 10Best just announced Raleigh's very own Brewgaloo® as a nominee for Best Beer Festival! Presented by Shop Local Raleigh, Bregaloo® will be entering its 12th year this spring. This iconic Raleigh event needs your help to reach number one by Monday, October 24 at noon when voting ends. Fans can vote once per day, per device. Voting can be found here.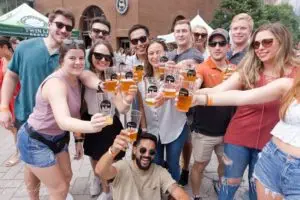 Brewgaloo is a 2 day festival featuring over 110 craft breweries from around NC and partnering with local food trucks, local vendors, and local bands to bring you North Carolina's largest craft beer festival! It has an attendance of over 60,000 people from 44 states and is also the largest single-state craft beer festival in existence and the 2nd largest craft beer festival in the country. Brewgaloo has won USAToday's 10Best List for #1 beer festival the past two years in a row.
A panel of experts partnered with 10Best editors to pick the initial 20 nominees and the top 10 winners will be determined by popular vote, with one being named "Best Beer Festival." Brewgaloo® was named Best Beer Festival in 2018 and 2019 (the contest was halted in 2020 and 2021) by popular vote and asks again that you would consider voting them as Best Beer Festival in America, once again bringing the title back to Raleigh.
This event supports Shop Local Raleigh and its mission to sustain programs that strengthen our local businesses and community.
"Brewgaloo has grown to be one of the largest beer festivals in the country and we are proud to produce this event annually and have kept true to its original concept of showcasing only North Carolina beer. Being nominated for the third time as Best Beer Festival in America, is an honor and a testimony to how the community loves this event and we're grateful for it." Jennifer Martin, Executive Director.
If you have any questions, reach out to us at: brewgaloo@shoplocalraleigh.org
Follow Brewgaloo on Twitter for updates
"Like" Brewgaloo on Facebook
Follow @BrewgalooRaleigh on Instagram
About Shop Local Raleigh
Shop Local Raleigh, a movement of the Greater Raleigh Merchants Association was started in April 2009 and has over 950 local business members.
SLR welcomes local, independently-owned businesses of all kinds. Businesses and consumers can learn more at www.shoplocalraleigh.org.