Who is Porch Dog Pots?
Porch Dog Pots is a small, family-owned business that primarily sells wheel-thrown functional ceramics made in Garner, NC! They only use glazes that are food safe, microwave safe, and dishwasher safe. These ceramics are always functional and are made in-house over a broad spectrum of colors. They primarily craft mugs, cups, bowls, planters, and crocks but are happy to accommodate any custom ideas also!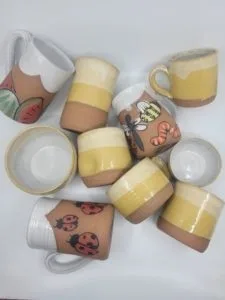 About Porch Dog Pots
Caitlin is the maker of all things, an engineer by day, and momma to a sweet little boy and two trusty hound dogs. After making ceramics off and on for a number of years, Porch Dog was launched in 2018 to start sending pottery out into the world. Based in our home studio in Garner, NC, handmade functional ceramics primarily on the wheel are produced.
Custom Work
They are always open to ideas for a custom job or collaboration! If you are a local business looking for your logo on a handmade piece they welcome you to reach out!