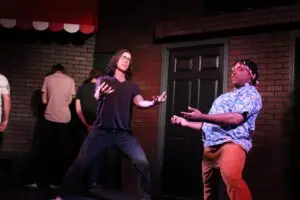 ComedyWorx is a Raleigh landmark that has presented ComedyShows for all audiences for over 25 years.
The Worx offers five different shows starting with our main show:
The ComedyWorx show where two competing teams of comedians try to earn points by making the audience laugh.  These shows involve some the same games you may have seen on Drew Cary's "Whose Line…. show"  However, it's whole lot funnier at The Worx 'cause its live, they are using your suggestions and we've beein doing it a whole lot longer.  The show is RATED – All audiences.  Yes, you can bring the kids (if they are supervised).  This is not a kiddie show but it can be enjoyed by all ages.  Every Friday 8 p.m. and Saturday 4 and 8 p.m.
The Harry show our long-running late night show, for 18 year and older (18+) where the show host leads a group of late-night revelers through a  party without fear of content restrictions.  During all performances, audience member volunteers are taken backstage to prepare them for an astonishing onstage experience, which will have the audience rolling in the aisles.  Most Fridays and Saturdays 10 p.m.
The Yes Yard an exciting mix of theater style improv comedy based on audience suggestions ( 18+) .  You will experience some the the Triangle's most innovative comedy improvisors presenting a style of improv developed in Chicago.  Every 3rd Friday of the month at 10 p.m.
Wit! the improv game show ( 18+).  Occasionally on Saturday at 10 p.m.  Check our webpage for schedule.
Funny Girls an all female improv show ( 18+). Occasionally at 10 p.m. Check our webpage for schedule.
Two competing teams of comedians try to earn points by making the audience laugh. These shows involve some of the same games you may have seen on Drew Cary's "Whose Line…" show. However, it's a whole lot funnier at The Worx 'cause its live, they are using your suggestions and we've been doing it a whole lot longer. This show is RATED – All audiences. Yes, you can bring the kids (if they are supervised). – See more at:
www.comedyworx.com