Whatever sprinkles your donut, Drizzle D' has you covered!
Drizzle D's is a family owned business serving the Triangle/Triad area and more. We serve HOT and FRESH made to order mini donuts, full size donuts and drinks for Corporate Events, Sporting Events, Private Parties, Festivals, and Special events. Click here to view upcoming locations!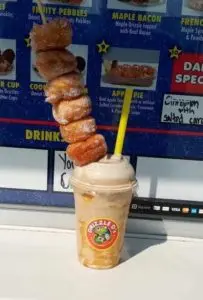 What finer treat can there be than a mini donut, a pint-sized morsel of sweetness to fit in the palm of your hand? Drizzle D's minis are not to be missed and often referred to as the best in North Carolina. With flavors like maple bacon, caramel apple pie, French toast, funnel cake mini donuts, cookies 'n' cream, and many more this treat trailer has classic and innovative options to satiate the most discerning of dessert connoisseurs.
We are ready to tailor our sweets to meet your needs! Contact us with your mini donut, full size donut and drink needs.