Hole Mole is the 2nd food truck for the owners of Qspresso LLC!
Courtney and Heladio have a rich restaurant background.
Courtney grew up in Buffalo, NY where she attended Niagara University and received a bachelors in science, along with a degree in hotel and restaurant management. She then moved to Las Vegas, NV to acquire experience in the food service industry. Courtney was part of the opening team for Earl of Sandwich and The Encore Casino. In 2011 Courtney moved to North Carolina where she picked up valuable skills from properties such as Chili's, Cookout, Panera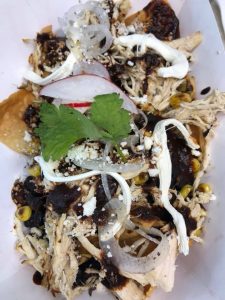 and the Umstead Hotel.
Heladio grew up in New Jersey before moving to North Carolina. He has been a chef most of his life and has had experience in different aspects of the restaurant industry.
In September of 2015, Heladio and Courtney teamed up and created the amazing Qspresso Food Truck that you love today. Qspresso was a huge hit, as the Raleigh-Durham area quickly fell in love with their Cuban-Latin food!​
Early 2017, Heladio & Courtney decided to announce the beginning of a news sister food truck – Holy Mole!
Holy Mole My Enchiladas will debut on November 4th 2017!
Menu:
Traditional blend of chiles, chocolate, platano macho & spices $9
Traditional red mole, blend of chiles, apples & spices $9
 Rojas
Blend of roasted tomatoes, peppers & spices $9
 Verdes