VENTURE OUT, WORRY-FREE WITH MURPHY'S NATURALS
At Murphy's Naturals, we strive to tackle concerns and eliminate obstacles that prevent people from getting outdoors— whether related to our products, our planet, or your protection. Because getting a breath of fresh air should be a walk in the park.
INGREDIENTS FROM NATURE THAT YOU KNOW.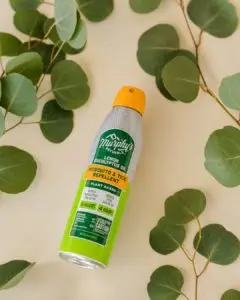 Formulas that you can put to the test.
When it has DEET, the chemicals smell bad, they leave your skin feeling sticky and dirty, and they can actually damage your gear. (It's a solvent powerful enough to melt plastic—do you really want it on your skin?)
That's why—from our sprays to our incense—we've formulated powerful plant-based blends that other natural manufacturers have overlooked…or skimped on. With our sprays, you get 30% lemon eucalyptus oil—the only plant-based mosquito repellent recommended by the CDC. Our candles and incense harness proprietary blends of citronella, lemongrass, rosemary, and peppermint to shield you from the pesky biters.
DO GOOD FOR THE OUTDOORS
Murphy's Naturals is on a mission to do infinite good by putting people and the environment first. We passionately strive to help our fellow humans get out there to play, explore, and relish in our natural world.