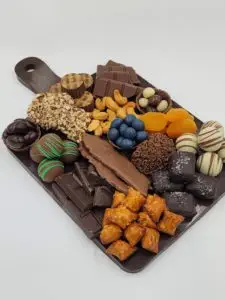 The taste, smell and feel of luxurious European chocolate right here in Raleigh! The Chocolate Boutique provides a very unique chocolate experience for chocolate lovers of all ages. Owned and operated by longtime Raleigh residents Maurice and Kesha Dozier, The Chocolate Boutique creates decadent chocolate creations from fine Belgian and Swiss chocolate. Upholding a standard of supreme customer service they place this same care in their chocolates.
Visit The Chocolate Boutique for delectable truffles done in dark, milk and white chocolate using fresh ingredients such as those from Savory Spice Shop around the corner and local farmers. Located at the rear of beautiful Lafayette Village this amazing chocolate boutique invites you and up to 30 friends to make your own chocolate creations!
Choose your chocolate, music and designs from our library of over 1200 chocolate molds then let the fun begin!
When you combine a chocolate-making party, wine, good friends and music in a beautiful European-themed boutique you've achieved chocolate bliss!
CHOCOLATE PARTIES
Want to explore your undiscovered chocolate-making creativity?
Hosting a girls' night, book club or neighborhood group gathering?
Planning your next corporate team building event?
Or just want to be surrounded by flowing dark chocolate and red wine while listening to a good Sinatra or 80's CD?
Come to The Chocolate Boutique for a fun and unique party experience! Have a great time while learning how to make chocolate and enjoying the company of friends, family or coworkers.
Click here to see our party FAQ's.
Click here to view party pricing.
Make your own chocolate with family, friends or associates of all ages. Each party consists of a 5-10 minute demonstration, free samples during the party, over 1,200 chocolate molds to choose from and each person takes home one-half pound of chocolate each! Add wine, cake, pizza and great music to the party and you've achieved chocolate utopia!
Check out our website!