Rose May Jewelry sells 18k gold-plated stainless steel jewelry. The stainless steel base metal is durable and tarnish-resistant. All of the jewelry is priced under $35 because beautiful, quality jewelry can be and should be affordable.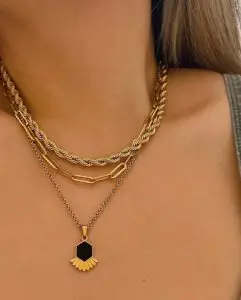 In short Rose May Jewelry is:
• Tarnish & Water Resistant.
• Hypoallergenic
• Affordable
And they offer FREE shipping on orders $50+
Note From The Owner
Hi friends! My name is Peggi and I live in a small town in North Carolina. I am a stay-at-home mom, married, with two beautiful girls, and have a pup named Nori. You can always catch me wearing a hoodie or a sweatshirt with our jewelry in our IG stories. My motto is, "comfy and chic"! 
My shop name Rose May is the combination of both my daughters' middle names. 
It makes this small business even more meaningful and special to me. I started this business back in June 2020. From the very start, my mission was to offer quality jewels at an affordable price. I still stand by this 100%. All of our handpicked jewels are made from stainless steel and sterling silver. They are high-quality metals that are resistant to tarnish. I wanted people to wear their jewels carefree on the daily. I put my heart into this business and enjoy every minute of it. It pushes me to be creative and come out of my shell. I am naturally an introvert but this business has helped me mentally and helped build my confidence! I really hope my customers love my jewels as much as I do! I am proud of Rose May!