Triangle Design Kitchens is a Raleigh, NC kitchens & bath design and remodeling studio with over 35 years of service to the Research Triangle area, as well as the rest of NC, VA and SC.
Your home should reflect who you are and our experienced team is here to help. The Triangle Design Kitchens team will bring together our collective knowledge, project management skills, craftsmanship, and quality products to make your dreams a reality. Whether you're remodeling your kitchen or bathroom, or you're ready to begin planning all of the cabinetry for your new dream home, we are here to assist you.
View our portfolio here.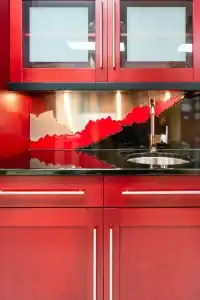 Kitchens aren't all we do. Our past projects include bathrooms, master suites, bookcases, built-in home entertainment units, home offices, laundry rooms, and more. Whether your style is traditional, contemporary, industrial,or eclectic, we have the products and design expertise needed to make it happen for you.
Appointments to meet with a designer are recommended. Please call ahead so you won't be disappointed if no one is available to meet with you. We are a small firm dedicated to exceptional personal service, and that means that we may already be working with somebody when you drop by. Or it's possible that we are in the field meeting with clients and/or subcontractors on a job site. Thanks for your cooperation in making your experience with Triangle Design Kitchens a memorable one from your very first visit.