Live It Up! Hillsborough Street aims to construct the Hillsborough Street community as a distinct destination in Raleigh by providing services and programs that improve the economic sustainability of the territory's businesses and increase the market value of it's properties.
The Hillsborough Street Community Service Corporation (HSCSC) is an independent, not for profit, municipal service district created in the fall of 2009 by the City of Raleigh in partnership with N.C. State University and the property owners, merchants and residents on and around Hillsborough Street.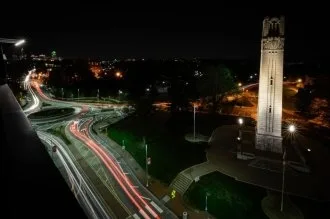 HSCSC, better known as Live It Up! Hillsborough Street, is a 3-mile long corridor that runs on both sides of Hillsborough Street, from St. Mary's School to the I-440 Beltline, including W. Morgan Street and a few side streets. The territory connects to, but does not include, Cameron Village. The territory includes a diverse collection of businesses, organizations, institutions and residential options.
Live It Up! Hillsborough Street provides a range of services and programs that help make the Hillsborough Street community a better place to live, work, play, shop, dine, learn and visit, including: cleaning, security, beautification, marketing and communications, economic development, special events and tourism, planning and advocacy, parking and transportation, research, arts and community.