Owned & operated by the Logan family since 1965, LOGAN's is your "One Stop Garden Shop!" with everything for your garden plus unique gifts & more.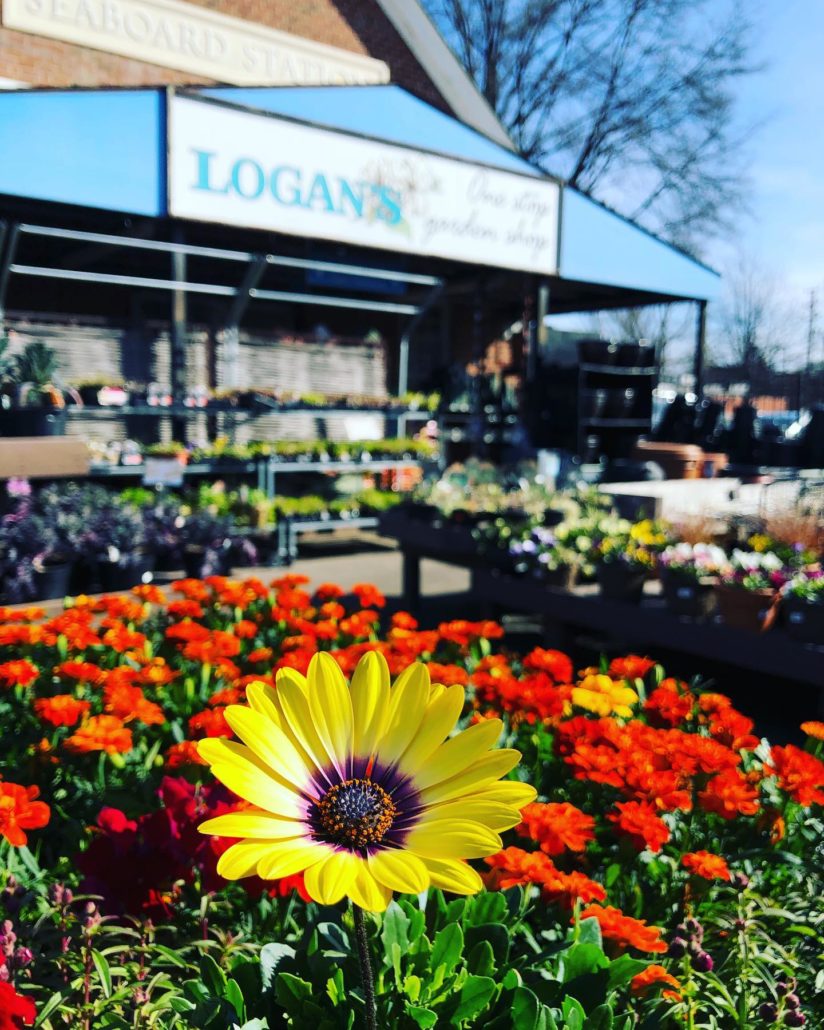 Logan's Garden Shop is a garden center located in downtown Raleigh at the historic Seaboard Railroad Station.
We carry trees, shrubs, perennials, annuals, houseplants, tropicals, pond plants, pond accessories, soil, mulch, soil amendments, garden tools, fountains, organic gardening products, outdoor furniture, fertilizer, seeds, heirloom seeds, bulbs, gift items, and much more!
Learn more about Logan's, a garden center in downtown Raleigh.  We're your local Raleigh nursery that helps support the Raleigh community.  To see what Logan's garden center is really like, watch our
Virtual Tour Here.
Our Roots
In 1965 Robert (Bob) Logan Sr. was full of determination to start his own business.  His idea was to put vending machines that dispensed worms around a local lake to make fishing a convenient past time.  Listening to his wife's advice, a railroad salvage business was begun instead. A few years later Bob began selling bedding plants and other garden related products, and Logan's began to blossom.
Growing Strong
In 1983 Robert Logan, Jr. assumed leadership of Logan's.  With his love of retail business, Robert continued to grow the family business.  Several of his sisters and their children worked at the business as well through the years contributing to the genuine feel of "family". Seeing the need to expand a few years later Robert and his wife, Julie, purchased the Bagwell Seaboard Railroad Station in downtown Raleigh where Logan's garden center relocated in 1991.  This new location provided space to add a gift department and a wide variety of household and gardening items.  The depot diner was renovated and became the Seaboard Café, a popular lunch spot where one can relax and enjoy the ambiance of good food and outdoor dining.  Logan's is known as a favorite place to shop and have a bite to eat.  Logan's has been recognized by the City of Raleigh, the State of North Carolina, & various historic associations for the adaptive re-use of the Historic Seaboard Railroad Station.
Transitioning to a New Season
Leslie and Joshua Logan are now "on board" as the third generation of Logan's, working alongside both of their parents to continue to grow and transition the company into a cutting edge retail experience.  The Logan family is grateful for the opportunity to work together as a team to lead this business into the next generation and beyond.
Our desire is to be a pillar within the community, changing and growing with the needs and times.  Logan's has been serving the community with programs such as Plant a Row for the Hungry and other endeavors to get people back to their roots in gardening and giving.  Plant a Row for the Hungry facilitates getting fresh produce donations from community and personal gardens to local families in need. We are looking to grow in the next few years as both a cutting edge place to shop, and a center for families and communities to gather and pursue meaningful experiences in life together.
Logan's has been blessed and honored to be the recipient of various awards of excellence including Independent's "Best in the Triangle", Metro Magazine's "Metro Bravo's Best Of" for the Best Garden Store, and Garden Center Magazine's "Top 100 Garden Centers of America" and "Innovator Award: Sustainability."  It is our deepest desire to continue to provide quality products and an outdoor sanctuary to our loyal guests.  We are a Raleigh Garden Center that you can count on to help grow your world…your one stop garden shop in Raleigh and SO much more!