Stop the Hectivity By Partnering With Productivity Consultant & Organize for Success owner, Emily Parks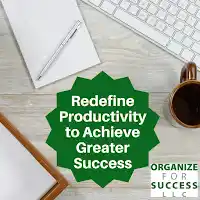 Are you feeling overwhelmed? Are you certain there's a better way?
Do you feel like you never get to the bottom of your to-do list?
Do you worry that you're missing opportunities?
Do you feel buried in email or simply unable to keep up?
Are you constantly in a frenzied and stressful state?
Do you wonder how many tasks and commitments are falling through the cracks?
Does it feel impossible to get anything accomplished amidst all the distractions?
Do you awake in the middle of the night, wondering which juggling ball you dropped?
Are you drowning, treading water or swimming laps?
Organize for Success, LLC has solutions to alleviate your pains and empower you to meet your goals at work, at home, in the community and for yourself. Partner with Emily Parks of Organize for Success® to get the optimal tools for driving your desired results:
Efficient workflow processes
Streamlined and organized workspaces
Tech tools best for your specific needs
Systems for implementing all the resources at your disposal
Communication skills, delegation options and strategic planning to succeed
Productivity is focusing your actions to efficiently achieve your desired results for work-life integration. 
Emily Parks is a technology specialist who focuses on increasing productivity for small business executives, entrepreneurs and corporate teams.  Partnering with Emily, you achieve work-life integration to fuel your results, help you get more done in less time and boost your harmony for greater peace of mind. She lead clients to greater profitability within the quarter via the ability to better achieve what's really important. Make every minute matter!™
With a background that includes automotive marketing and sports administration, she possesses a unique knowledge of technology for both PC and Mac, iPhone and Android. Emily understands technology's importance in not only increasing efficiency and output but also how to easily incorporate it into daily operations to achieve goals. Still, Emily's productivity expertise is not limited to technology; she discovers your specific needs to create customized plans for improving your outcomes. Trust Emily to provide confidential, one-on-one business strategy consulting (in person or via video call) as well as customized workshops and trainings.  Partner with Emily to organize for success, and you'll see your productivity soar, gain greater peace of mind and better attain your desired results.