Hibachi & Company offers a
uthentic Japanese food that enlivens healthful fare.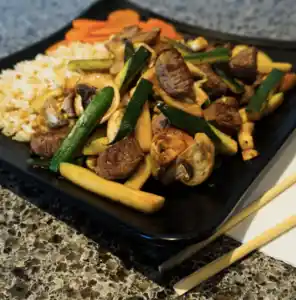 The vegetables are crisp, the rice is freshly cooked and every order is cooked to order. Can this be fast food? At Hibachi & Company it is! This casual restaurant is building a loyal following in and around the Triangle by serving healthy and tasty Japanese food in a flash.
Hibachi with rice or noodles flies out of the kitchen almost as fast as orders are placed. You know they're fresh because you can watch the cooks put them together in the open kitchen just behind the counter.