"HIBERNIAN", from the Latin term Hibernia (Ireland), meaning 'one who comes from Ireland'. The Hibernian Restaurant and Pubs are contemporary Irish pubs that blend the Irish pubs of old and the vibrancy of the new modern Irish culture. The pubs are a meeting place for all, to talk, to argue, to debate, to sing, to laugh to drink and to EAT. They adapt and change with the time of day. The cozy corners and blazing fireplaces will take you away from North Carolina and bring you on the streets of Galway. So go join them and feel and taste a little bit of Ireland and be sure to bring your laptops with you as both of the pubs offer free WIFI!
Locations
311 Glenwood Ave
Raleigh, NC 27603
(919) 833-2275
8021 Falls of the Neuse Road
Raleigh, NC 27615
(919) 803-1609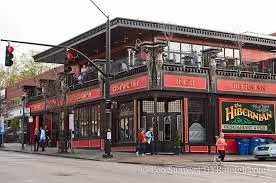 The warm and welcoming environment of Hibernian is the ideal location for a company outing, networking social, family reunion, rehearsal dinner, birthday gathering, fundraiser, or holiday party.
The Downtown pub features multiple areas that can accommodate groups of varying sizes from the Green Room downstairs to our spacious second floor and balcony overlooking Glenwood Ave.  Our North Raleigh location offers a spacious venue and a fun atmosphere that would be perfect for any gathering!
We can also bring the party to you! Hibernian offers full service food & beverage catering for functions of all sizes throughout the Triangle region! For information on our catering menu as well as private events at either of our locations, please contact them directly.
Book Hibernian for your private event, group dining, or night out with friends today! Click here to book.