$20 on the 20th Specials
Available only on the 20th of the month!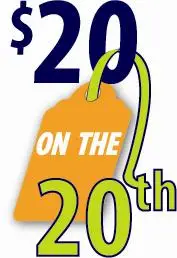 $20 on the 20th, supported by Shop Local Raleigh is encouraging shoppers to take $20 and spend it with a local merchant rather than a big box chain. With over 400 members, Shop Local Raleigh is able to provide shoppers with a wide variety of locally owned independent businesses to choose from when deciding where to spend your money.
Make your shopping vision 20/20 and support your local merchants every month by simply spending $20 on the 20th of every month!
Red and White Shop: 20% off one item when you mention Shop Local Raleigh $20 on the 20th
Raleigh Margarita & Raleigh Slushy: $20 off a reservation for rental when made on the 20th of the month
The Enchanted Fairy: 20% Off Clothing (Applicable for All Non-Sale Apparel) on the 20th of the month
Revive: Take $20 off your 90-minute massage from Revive Massage & Bodywork in downtown Raleigh. Call us at 919-754-3939 on the 20th to come in that day or book a future appointment – mention the promotion when scheduling. Choose from our signature Tranquility Massage, or Shiatsu, Deep Tissue or Prenatal massage.
Watkins Flowers of Distinctions: 20% discount on all our regular priced home furnishings and gifts on the 20th.
The Berkeley Cafe: Two burgers & two sets of fries for $20 only on the 20th of the month!!!
Flicko's Video: Transfer a VHS tape to DVD for $20 (two hour maximum per DVD)- regular price is $25.95
Top Shelf Design: 20% off one project when quoted on the 20th of the month
The Wine Feed: The Wine Feed: 20% off any retail purchase over $20 when mentioning this offer. Wine bar and wine club purchases excluded
TriLife: 20% off your entire purchase on the 20th of the month. This includes bikes as well so come in for some significant savings!
NoFo at the Pig: 20% off any one full priced item for customers who mention Shop Local Raleigh on the 20th of the month. Not valid for consignment items.
Now Hear This Clinic: $20 for a 60 minute consultation with an audiologist scheduled on the 20th of the month! Mention Shop Local Raleigh.
Joint Venture Jewelry: $20 off any repair on the 20th. Mention SLR to redeem.
Core Dynamics Dance Center: $20 towards your registration fee when done on the 20th of the month. Just mention SLR either through your online registration or in-house.
Kustom Koozies: $20.00 off your order of T-shirts and/or Koozies. Use checkout code SLR or visit them in person.
Game Day Sports Outlet: take 20% off one item on the 20th of each month. Mention SLR
Lisa Stewart Designs: $20 for a classic black and white animal print from the CalligraphyPets collection for customers who mention Shop Local Raleigh on the 20th of the month.
JP Custom Carpentry: 20% discount for all service contracts signed on the 20th of every month.
High Road Provisions: Use code LOCAL20 to get 20% OFF any order of $20 or more
Hands on Health: Coming in January: 20th will offer $20 off any 60-minute session (or longer)
Payroll People: 20% off your company's first months payroll fees. Ask for Kim Davis.
Unleashed: a Free Dog or Cat Toy with any purchase of $20 or more!
Adara Spa: Make an appointment or have your treatment on the 20th of each month and receive: 25 minute organic mini facial for $20, customized to your skin type. This offer good with Leah and only when booked or redeemed on the 20th and mention Shop Local Raleigh.
Feelgoodz: Slimz and Classicz for $20 on the 20th of each month!
Skin Sense: Enjoy $20 toward any treatment of $50 or greater at any Skin Sense location!
The Green Monkey: 20% off $20 purchase (excludes alcohol and tobacco products).
Sam and Bill's Hair Design: $20 off any color service with select stylist. $20 men's haircut with select stylist *Mention this add when you schedule an appointment
ACE Hardware- Seaboard Station: 20% OFF $20 or more every month on the 20th. *Does not apply to grills, gift cards, power tools, & equipment, sale items or in conjunction with any other offers.
Bayleaf Veterinary Hospital: 20% discount on all dentals booked through Bayleaf's website on the 20th. Clients can request a dental booking via the website and the client services team will get in touch to schedule an appointment at their convenience.
Burke Brothers: Spend a minimum of $20 and receive 20% off merchandise on the 20th (excludes power tools and grills)!
Quail Ridge Books and Music: 20% off any regular price item for anyone that mentions Shop Local Raleigh
Exclusive Branding Solutions: 20% off any order placed or inquired about on the 20th!
Frameworks: Mention SLR & receive a 20% discount on custom framing!
Great Outdoor Provision Co.: Save 20% off any one (1) regular price item for customers that mention Shop Local Raleigh on the 20th of the month
Pretty in Pink Foundation: PIPF is asking for $20.00 to be donated in honor of those you love. Who comes to your mind first? Go to our website to make your special donation. Mark it " 20/20" campaign.
Wardrobe Consulting: 20% off a closet consultation
Downtown Mobile Veterinary Service: $20 off a veterinary service when the appointment is scheduled on the 20th of the month. Qualifying service examples include: heart worm test, dental cleaning, house call, vaccine, and more. Call today to schedule your appointment and mention this special offer.
Galatea Boutique: 20% OFF one item or a FREE scarf with your 5 cans or 5 lb donation of Pet Food to benefit the local SPCA!! Cat food is really needed!
Logan Trading Company: Save 20% off one (1) item of $20 or more for customers that mention Shop Local Raleigh. Valid on in-stock, regularly priced merchandise. Not valid on sale items or promotions, Pine Straw, "Backyard Etc" furniture, or services. Not to be combined with any other offer
Raleigh Fine Jewelry: $20.00 ring sizing (up or down one size + 20 each additional size)
Harmony Life: Buy $20 gift certificate (good towards any service offered by Harmony Life) and get 20% off for Reiki, Aromatherapy or Infrared sauna session
Atlantic Avenue Orchid and Garden: 20% off any item $20 or more on the 20th when you mention SLR $20 on the 20th
The WELL Being Holistic Bodywork Center: Special foot soak and a steam treatment for $20 available the 20th of each month. 20% off any service 60 min or longer for the 20th Special
Raleigh Public Record: Wear your support of local journalism with a Raleigh Public Record t-shirt and we'll kick in free shipping and handling! All shirts are made of a preshrunk cotton/poly blend for great durability and fit and are custom silk-screened by House of Swank here in Raleigh. Support the Record (a nonprofit, online news organization providing in-depth Raleigh news) in style! Order today and keep the news coming. https://app.etapestry.com/onlineforms/RaleighPublicRecord/SLRpromotion.htm
Bolton Construction & Service: $20 discount on any regular Time and Material Service Call for Plumbing, Mechanical, or Electrical work on the 20th. This could not be combined with any of our other offers.
Sweet T Salon: $20 off any Oil-based Blond Highlighting service or $20 Southern Gentleman's shampoo, haircut and style *Be green and show this ad on your phone or present it at checkout!
Fan Feet: $20 Off In Stock Inventory of the most stylish and hottest College Heels for the school faithful: http://fanfeetheels.com/ Enter Promo Code: SHOPLOCAL20
Peachy Keen Boutique: 20% off one item on the 20th. Must mention SLR to redeem.
Acupuncture Associates: $20 discount off of a one hour initial consultation and acupuncture treatment: www.raleigh-acupuncture.com. Offer is good for any new patients who book on the 20th (for services on a future date) and mention this ad. Services are available by appointment only and can be made by calling Acupuncture Associates at 919-636-2148 or booking online http://www.genbook.com/bookings/slot/reservation/30182109/.
Dazzle & Lace: 20% off any regularly priced item for anyone that mentions Shop Local Raleigh. Visit their website, www.dazzlelace.com for products and ideas. Contact Robin at 919-621-9396 or email your order to dazlace@nc.rr.com. Feel free to contact me with any questions, concerns or suggestions!
Skin Spa of Wake Forest: $20 off any 1 Hour service on the 20th of every month
Thank you to ABC- WTVD for doing a story on $20 on the 20th!
If you own an independent business and would like to join SLR or get your business involved with the $20 on the 20th, visit: https://shoplocalraleigh.org/promote/join-slr/