ABC11 is collecting food at the ABC11/LeithAuto.com Raleigh Christmas Parade presented by Shop Local Raleigh
It's almost time for the ABC11 Together Food Drive and you can bring your cans to the ABC11/LeithCars.com Raleigh Christmas Parade presented by Shop Local Raleigh.
To drop off your cans, just look for the Food Drive signs along the parade route!
Bring 3 cans or more and you'll get a Zaxby's coupon.
2017 ABC11 Together Food Drive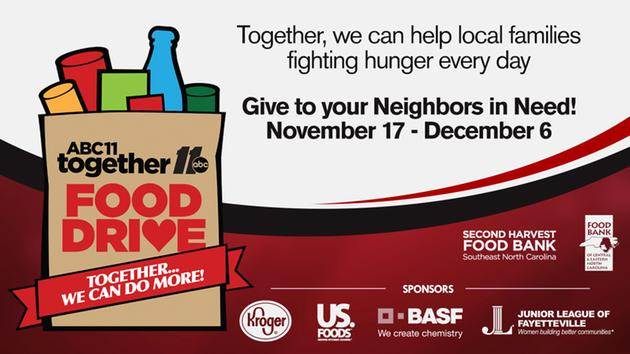 ABC11 is celebrating more than 30 years of giving from the heart and together we can help local families fighting hunger every day.
The ABC11 Together Food Drive is coming up and we are encouraging everyone to get ready for our big collection day!
Click here to donate to the Food Bank of Central & Eastern North Carolina in Raleigh.
Click here to donate to the Second Harvest Food Bank in Fayetteville.
Your donation matters, food or cash, it all goes back into our community. Last year's drive collected more than 500,000 meals for families in need and this year we are aiming for 700,000. Thank you for your support!
It's so easy to give, just look for the ABC11 food drive bins inside your local Kroger from November 17th until December 6th.

ABC11 and the following sponsors are helping to drive out hunger in our area with the ABC11 Together Food Drive:
– Food Bank of Central and Eastern North Carolina
– Second Harvest Food Bank of Southeast North Carolina
– Kroger
– BASF
– US Foods
– Junior League of Fayetteville
How to participate:
Go to a location listed below between November 17th and December 6th to donate dollars or food to help feed neighbors in need.
Follow ABC11 on Twitter for updates on the food drive, and share your experiences by adding the #abc11together hashtag to your tweets.
Our food drive culminates with a "drive-thru day" on December 6th, when ABC11 brings you live coverage with reporters on location at collection sites in Raleigh, Cary, Durham and Fayetteville.
Most Wanted Food Drive Items
Beef Stew, Corned Beef Hash, Chili
Canned Fruits and Vegetables
Peanut Butter
Canned Soups
Canned Fish (Tuna, Salmon)
Dried Beans
Rice
Cereals
Pastas and Sauces
Diapers and "Attends"
Elderly Nutrition Drinks ("Ensure")
Hygiene Items
No glass, please
Questions? Please call (919) 875-0707
Corporate Participation
Companies throughout the Heart of Carolina are encouraged to organize on-site food drives to help feed their neighbors during the holiday season and beyond. Call (919) 863-9530 to learn how to participate and then bring your food collection to a Kroger near you or the Food Bank. Thanks for your support!
Drive-Thru Day Collection Sites
Raleigh: Kroger at at 350 E Six Forks Road
Durham: ABC11 studios at 411 Liberty St.
Fayetteville: Highland Shopping Center at 2800 Raeford Road
Cary: Kroger at 1273 NW Maynard Rd
Other Collection Sites
All Kroger Grocery Stores
Wake:
Food Bank of CENC -1924 Capital Blvd, Raleigh
Durham:
Food Bank of CENC Durham Branch – 2700 Angier Avenue
Cumberland:
Second Harvest Food Bank – 406 Deep Creek Road, Fayetteville, NC 28312
Junior League of Fayetteville – 2605 Fort Bragg Road, Fayetteville, NC 28303
Kimrey Law, PLLC – 300 Dick Street, Fayetteville, NC 28301
New Deli Inc – 2153 Valleygate Drive, #1 Fayetteville, NC 28304; Village Plaza Association
ERA Strother Real Estate – 2931 Breezewood Drive, Fayetteville, NC 28303, 35 Plantation Drive Cameron, NC 28326