Where's Waldo Scavenger Hunt
Shop Local Raleigh and Quail Ridge Books are partnering for the always-fun Find Waldo Local scavenger hunt!
The elusive red-and-white striped character is back and making his way around the Greater Raleigh area throughout the entire month of July.
Pick up your passport at Quail Ridge Books or any of the participating businesses and start hunting. When you spot Waldo, collect a stamp for that box on your passport.
At the end of the month, join us for the Where's Waldo Grand Celebration at Quail Ridge Books on August 8th at 5:30 pm where we'll have drawings for prizes, Waldo-themed activities, and fun for the whole family!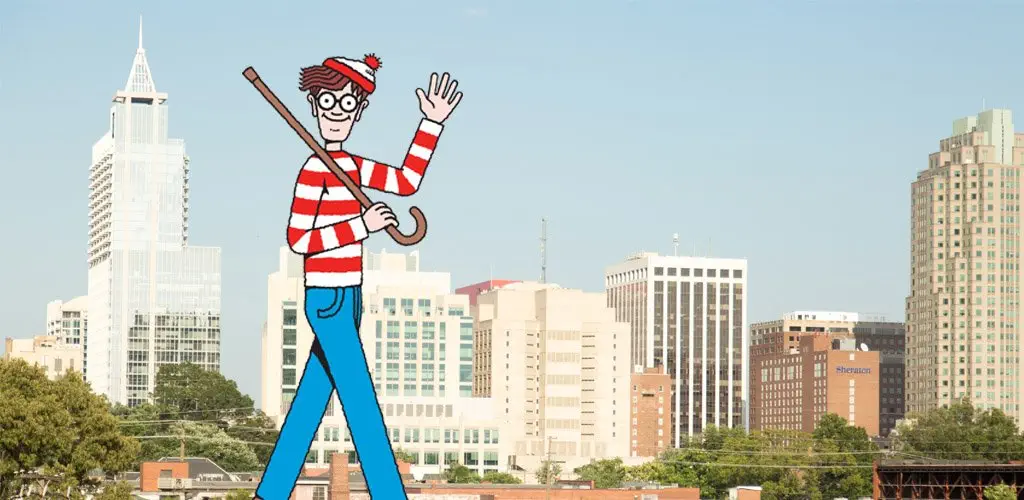 Find Waldo Local Scavenger Hunt
July 1 -31
Here's how to play!
You can start the hunt anytime in the month of July. Just download and print the passport by clicking here or pick up one up at a participating business to get started.
When you spot Waldo at any of the participating businesses listed on your passport, collect a store stamp (or signature). You must find Waldo in the store to receive your stamp. He will move around throughout the month so look carefully!
BONUS FIND: Look for Waldo's glasses at Quail Ridge Books to collect an additional store stamp/signature.
The more Waldos you find, the more chances you have to win awesome prizes! For every 5 Waldo spottings you log, you will receive 1 entry into the drawing for a deluxe set of Waldo books and other great prizes donated from the participating local businesses.
When you've collected at least ten different store stamps/signatures, take them to Quail Ridge Books, your FIND WALDO LOCAL headquarters, to claim a Waldo temporary tattoo and a coupon for $1 off (limited to the first 125 Waldo-spotters).
The search ends on July 31. Turn your passport in at Quail Ridge Books to receive your raffle entries and plan to attend the Waldo grand celebration and prize drawing at Quail Ridge Books on Tuesday, August 8th at 5:30 pm! To receive a prize, you MUST be present at the party!
Team play is acceptable, but prizes, other than stickers and coupons, are single.
Save
Save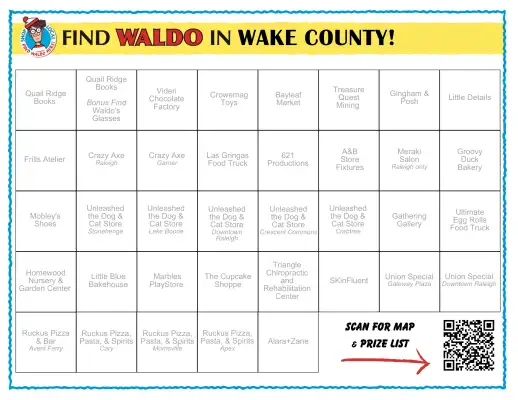 Participating Businesses & Prizes
Each participating business has donated an awesome prize which will be raffled off at the August 8th Grand Celebration at Quail Ridge Books!
5 stamps = 1 raffle entry
10 stamps = 2 raffle entries
15 stamps = 3 raffle entries
20 stamps = 4 raffle entries
25 stamps = 5 raffle entries
Grand Celebration & Prize Drawing
August 8 at 5:30 pm
Quail Ridge Books
Mark your calendars for a Waldo-themed celebration on August 8th at Quail Ridge Books! There will be activities and fun for the whole family. Turn your Find Waldo Passport in with 20+ stamps/signatures and receive a raffle entry to win a prize from one of the participating local businesses where you found Waldo!