Where's Waldo Scavenger Hunt July 1-29 2018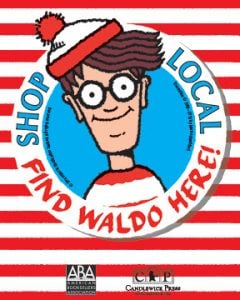 Shop Local Raleigh and Quail Ridge Books are partnering for the always fun Where's Waldo Scavenger Hunt. The elusive red-and-white striped character is back and making his way around the Greater Raleigh area the entire month of July! Pick up your passport at Quail Ridge Books or any of our participating businesses after June 26 and start hunting. Participation rules are below:
The first 125 players who collect store stamps/ signatures from at least 10 different businesses and turn their passports into Quail Ridge Books to be entered in a drawing on July 29 for other larger prizes.
The party is July 29 at 2pm at Quail Ridge Books.
You must find Waldo in the store to receive your stamp. He will move around throughout the month so look carefully!
You can start the hunt anytime in the month of July.
Team play is acceptable, but prizes, other than stickers and coupons, are single.
So are you ready to play? We are! We have collected several great prizes for the winners so pick up your passport today and Find Waldo Local!
Participating businesses include:
Save
Save