Located near downtown Apex, Treasure Quest Mining features an indoor gem mining adventure and prehistoric gift shop.
Dig for treasures using our 35′ indoor sluice or shop for authentic fossils, crystals or dinosaur toys.
Perfect for hosting a rockin' birthday party or school/club fundraiser!
Gem Mining – How it works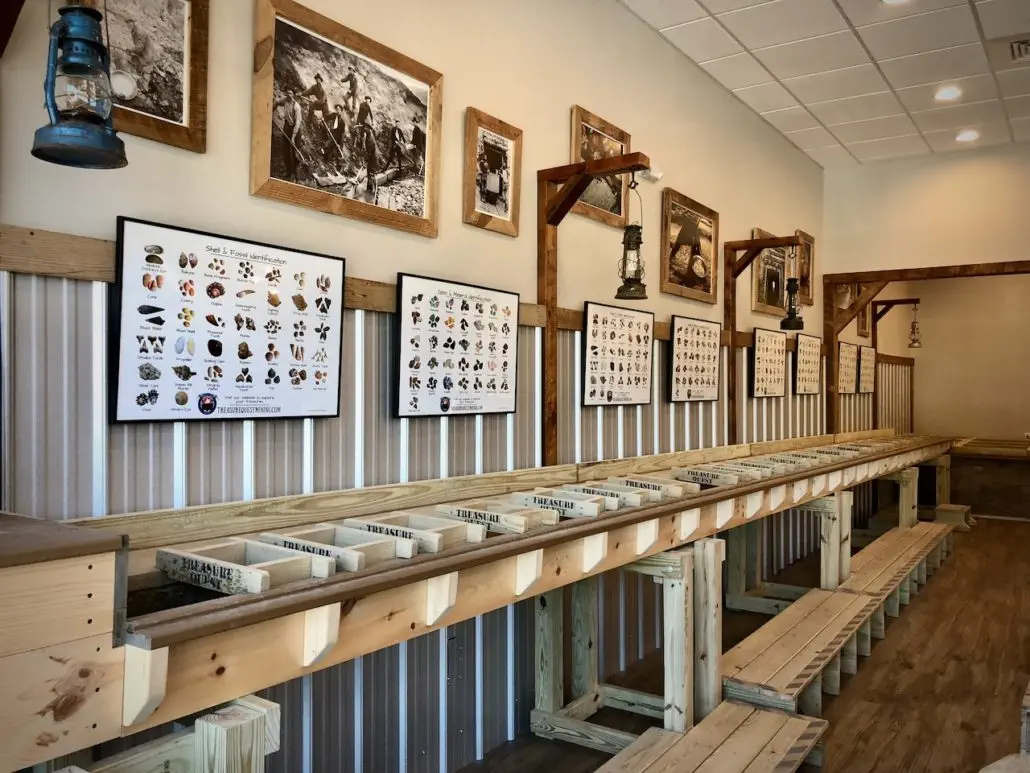 Treasure hunters purchase a bucket of mining rough and wash the material in our 35-foot-long indoor sluice.  The running water rinses away the sediment, revealing the treasures contained within the material.  Treasure hunters keep their finds, starting or adding to their collection.  Visit our website to explore bucket sizes and pricing.
Prehistoric Gift Shop
We invite you to visit us in Apex and explore our Prehistoric Gift Shop in person.  We carry an incredible collection of authentic fossil specimens, crystals and gemstones, geologic treasures, and unique and entertaining prehistoric-themed toys.  Our treasures are perfect for the rockhound, junior paleontologist, or collector on your gift-giving list!  Our treasures make excellent additions to the home, serving as breathtaking conversation starters or just that little extra something to brighten a room.  We have the best dinosaur gifts too!  And we carry an assortment of stones for the metaphysically minded.  If you can't find what you're looking for, be certain to ask us!  We would be happy to find it for you.
However, if you're not able to swing by, you can explore and purchase our treasures online by visiting YouWillDigIt.com!
Birthday Parties
Host an incredible gem mining birthday party at our store or at your home.  We offer three party packages to choose from.  Visit our website to explore the available packages!
About Us
The idea for Treasure Quest Mining sprung out of our passion for spending time with our son and embarking on a true treasure hunt together. When we're not working, you'll often find us metal detecting, searching for fossils along the coast, or digging for gems in the mountains. We cherish those times spent on family vacations gem-hunting in the North Carolina mountains or searching for shells and sharks teeth at the beach. So much so, that we decided to bring that experience closer to home for kids and their families to enjoy.  In 2016, we opened Treasure Quest Mining as a mobile gem mining experience. Shortly after launching the gem mining aspect of our business, we expanded to include a prehistoric gift shop. And in 2018, we opened a brick-and-mortar location in Apex, North Carolina.  We are a family-run, mom-and-pop, business in the truest sense.  Whether it be traveling across the country to source our rocks and fossils, hand-preparing the mining rough mixtures, or setting up our gift shop display, the three of us are in this together. And we love it!
Location and Hours
Visit us at 414 Upchurch Street, Apex, NC 27502.  We're located just two blocks from downtown Apex.   Visit our website for hours of operation.
You will dig it!