Shop Local Raleigh Presents Brewgaloo 2015!
NC Craft Beer, Food Trucks, Vendors and Live Music on April 25
Tickets are on sale!
Brewgaloo, presented by Shop Local Raleigh, returns to downtown Raleigh for it's 4th year! This year we have added more NC Beer, More food trucks, More live music, More vendors, More street space– more, more, more!!!!
Brewgaloo will feature 73 NC craft breweries, 50 local food trucks, 30 vendors and 4 stage areas featuring 17 live bands!
General admission is free and includes a pint glass (special unbreakable acrylic souvenir glasses will be available while supplies last, pre-sales are guaranteed a glass). Guests can purchase tokens towards a full pint (1 token) or a 3 oz. taster card (5 tokens) which will allow for five (5)- 3oz samplers.
Simple beer math:
1 token= $5; Pint= 1 token
Sample size= purchased in sets of 5= $5 per card
North Carolina Brewers to be represented:
Altamont Brewing Company
Appalachian Mountain Brewery
Appalachian Hard Mountain Cider
A** Clown Brewing
Aviator Brewing Company
Beech Mountain Brewing Company
Beer Army Combat Brewery
Big Boss Brewing Company
Blackjack Brewing Company
Blind Squirrel Brewery
Blowing Rock Brewing
Bombshell Beer Company
Boondocks Brewing LLC
Brice's Brewing Company
Brueprint Brewing Company
Bull City Ciderworks
Cape Fear Brewing Company
Carolina Brewery
Carolina Brewing Company
Crank Arm Brewing
D9 Brewing Company
Deep River Brewing Company
Dingo Dog Brewing
Dirtbag Ales
Double Barley Brewing
Draft Line Brewing
The Duck-Rabbit Craft Brewery
Flat Top Brewing Company
Foothills Brewing
Fortnight Brewing Company
French Broad Brewery
Fullsteam Brewery
G2B Restaurant & Brewery
Gizmo Brew Works
Good Hops Brewing
Granite Falls Brewing Company
Haw River Farmhouse Ales
Highland Brewing Company
Hi-Wire Brewing
Howard Brewing
Kombucha Buchi
The Lincoln Brewing Company
Lonerider
Lookout Brewing Company
Lost Province Brewing Co.
Lynnwood Brewing Concern
The Mash House Brewing Company
Mother Earth Brewing
Mystery Brewing
Natty Greene's Brewing Company
Neuse River Brewing Co.
Nickelpoint Brewing Co.
Olde Hickory Brewery
The Olde Mecklenburg Brewery
Pig Pounder Brewery
Pisgah Brewing
Ponysaurus Brewing
Railhouse Brewery
Raleigh Brewing Company
Red Oak Brewery
Sourwood Brewing Company
Southern Pines Brewing Co.
Starpoint Brewing
Steel String Brewery
Sub Noir Brewing Company
Top of the Hill Restaurant, Brewery and Distillery
Triangle Brewing Company
Triple C Brewing Company
Twin Leaf Brewery
The Unknown Brewing Co.
Urban Orchard Cider Co.
White Rabbit Brewing Company
White Street Brewing Company
Food Trucks that will be in attendance:
All American Food Truck
American Meltdown
Amigo San
Bam Pow Chow
Baguettaboutit
Barone Meatball
Baton Rouge Cuisine
Belgian Waffology
Big Al's BBQ
Big John's Wings & Things
Bulkogi
Cafe Prost
Captain Ponchos
Chai's Global Street Food
Charlies On Wheels (Charlies Kabobs)
Chez Moi Bakery
Chick-N-Que
Chirba Chirba
CockADoodleMoo
CJ's Street Food
Chirba Chirba
Crazy G's
Czech This Out
D'Burritos
Dump Pho King
Dusty Donuts
Gussy's Greek
Iced Cupcakes
JAM Ice Cream
King's Authentic Philly Cheesesteak
Lady Bug Treats
Lucky Dog's
Lumpy's Ice Cream
Mac-u-roni
MamaDuke's
Not Just Icing
OMG Chicken
Pie Pushers
Phat Wrapz
Sarge's Chef on Wheels
Sol Tacos
Stoke & Smoke
Stuft
Taco Grande
The Humble Pig
Ty's All Natural
Virgil's Jamaican
Will & Pop's
Bands at Brewgaloo
Martin Street Stage
2:15 – 3:15 Chris O'Neill (solo act)
3:45 – 4:45 The Robertson Boys
5:15 – 6:15 Dave George and Friends
6:45 – 7:45 Wave Lynx
8:15 – 9:15 Ghostt Bllonde
Courthouse Steps
2:30 – 5:30 Laura Thurston
6:00 – 9:00 Mickey Mills
City Plaza stage
2:00 – 3:00 Laura Reed
3:30 – 4:30 Archbishops of Blount Street
5:00 – 6:00 Jmac and Junior
6:30 – 7:30 Jack the Radio
8:00 – 10:00 Crucial Fiya
Capital stage
2:30 – 3:30 Barleycorn and Rye
4:00 – 5:00 Nuclear Honey
5:30 – 6:30 Young Cardinals
7:00 – 8:00 The Record
8:30 – 10:00 Soul House Revival
In an effort to help keep lines shorter on the day of the event, we are asking that you pre-purchase your tokens! You can pre-purchase tokens online or go to Ray Price Harley Davidson or Galatea Boutique! When you pre-purchase at Ray Price or Galatea Boutique, all you need to do the day of the event is get your wristband and cup – plus you save some green!
**No convenience fees when you buy in advance!
For questions, reach out to us at: brewgaloo@shoplocalraleigh.org
Follow Brewgaloo on Twitter for updates: http://twitter.com/brewgaloo
"Like" Brewgaloo on Facebook: http://www.facebook.com/Brewgaloo
Follow us on Instagram: http://www.instagram.com/brewgalooRaleigh
Thank you to our sponsors: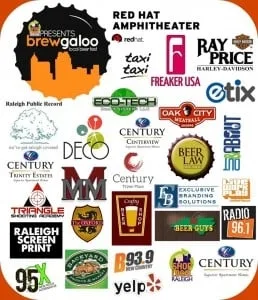 Copyright © 2015 Shop Local Raleigh, All rights reserved.