New Storefront in MDO Holdings-Owned Building Expands Downtown Raleigh Retail
After five successful years as one of Raleigh's downtown independent shops, DECO Raleigh will move next door to a larger space in early Spring 2018.  The retailer, currently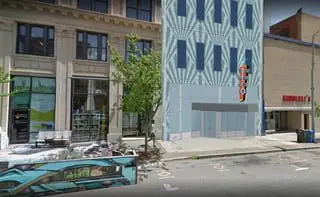 operates two storefronts, DECO and DECO Home, in the same building at the corner of Hargett and Salisbury streets downtown. The move will result in a single new storefront facing Salisbury Street for DECO while also creating two new retail space options in DECO's former locations.
Bill King, Senior Director of Economic Development for the Downtown Raleigh Alliance (DRA), introduced DECO owner Pam Blondin to Michael Olander Jr., CEO of MDO Holdings, who had recently purchased the 208 Fayetteville Street building. The former home of the North Carolina State Bar has entrances on both Fayetteville Street and Salisbury Street.  DECO will be located at 207 S. Salisbury, occupying half of the street-level main floor. DECO's newly designed main entrance is adjacent to Quercus and only a few feet from DECO's current location. The front half of the ground floor that faces Fayetteville Street will likely house another local consumer-facing shop/restaurant.
"This is an excellent opportunity to grow DECO and, at the same time, to increase the number of locally-owned retail storefronts on this important downtown corner," says Pam Blondin, DECO owner. "Both MDO Holdings and my current landlord, Empire Properties, are local developers who care about growing retail downtown."  The two storefronts currently leased by DECO in Empire's Odd Fellows Building will be leased to retailers, creating a destination for locally-owned retail that includes DECO, Quercus, Art of Style, Raleigh Raw and, across the street, Death & Taxes, all of which opened after DECO and Empire took a chance on an empty corner storefront five years ago.
"We feel that shops and restaurants are vital to the vibrancy and overall livability of downtown Raleigh", said Olander, Jr. "One of the things that attracted us to this landmark building is the opportunity to infuse energy onto two different streets. We are thrilled to host DECO and we look forward to announcing their Fayetteville Street partner very soon. We are still in talks with potential office tenants – but whoever occupies the balance of the space will be in one of the most energetic buildings in Downtown Raleigh."
"The corner of Hargett and Salisbury Streets is becoming one of our strongest retail corridors with the expansion and success of DECO," says King.  "This move activates another previously vacant storefront, which creates street-level vibrancy and makes downtown even more attractive for workers, residents, and visitors."
The new DECO space is slated to open Spring 2018. Measuring more than twice the size of the current shop, the new space will be the largest footprint for an independent retailer downtown, allowing DECO to consolidate the offerings from DECO and DECO Home while adding new independent and local brands to the mix.
"We love our corner of Raleigh, and it's exciting to work with other local retailers to make this a colorful and interesting cluster of shops," says Blondin, who has invested heavily in the corner by funding and maintaining Raleigh's first public parklet and sidewalk mural, which won a Sir Walter Award from the city.  "We are excited that MDO Holdings is embracing our vision, and we are deeply grateful to Empire Properties for getting the ball rolling five years ago."
DECO will be celebrating their 5th anniversary November 1 – 5 with special sales and complimentary, locally made goodies from downtown businesses like Videri, lucettegrace and Bittersweet.  After an anniversary clearance sale, DECO Home will close November 5, and that space will house a holiday Pop-Up Shop from successful online retailer Raleigh Vintage.
---
MDO HOLDINGS
MDO Holdings is an investment and management firm based in Raleigh, NC. With seven operating companies, nearly 30 portfolio investments and more than 450,000 square feet in commercial real estate, MDO Holdings is varied in its investments but always focused on building people and companies that engage authentically with their community while stimulating creative thought.
DECO RALEIGH
DECO Raleigh was opened in November 2012 by Pam Blondin, formerly a 30-year non-profit executive; DECO Home opened October 2016. Blondin was committed to creating a retail destination in Downtown Raleigh and to helping spark a retail-friendly environment in the area where she had worked and lived for two decades. The store has been named Best Gift Store by readers of The Indy and has been highlighted in Conde' Nast Taveler and Delta's Sky Magazine. Yelp and Mashable.com named Deco one of the 25 best independent gift stores in the United States.  Blondin received the very first "Rising Star" award from the Downtown Raleigh Alliance in February 2015 in recognition of her commitment to improving downtown Raleigh. She is co-founder and sponsor of Raleigh's first parklet, awarded a 2015 Sir Walter Raleigh Award for innovation. She is also co-founder of the FLIGHT Fund, fiscally sponsored by the Visual Art Exchange, that awards small grants for public creativity in Raleigh. She organized a holiday Pop-Up shop to support the Flight Fund during November and December 2015.  An outspoken advocate for Downtown Raleigh retail, Blondin serves on multiple boards and was appointed by Mayor McFarlane to serve on the Downtown Raleigh Retail Task Force and as a member of the city's 10 year plan advisory board.
---
Contacts
DECO
Pam Blondin, Owner
Cell: 919-414-5466
MDO Holdings
Doug Warf, Chief Marketing Officer
Phone: 919.532.0702